Josef's Journey to John O'Groats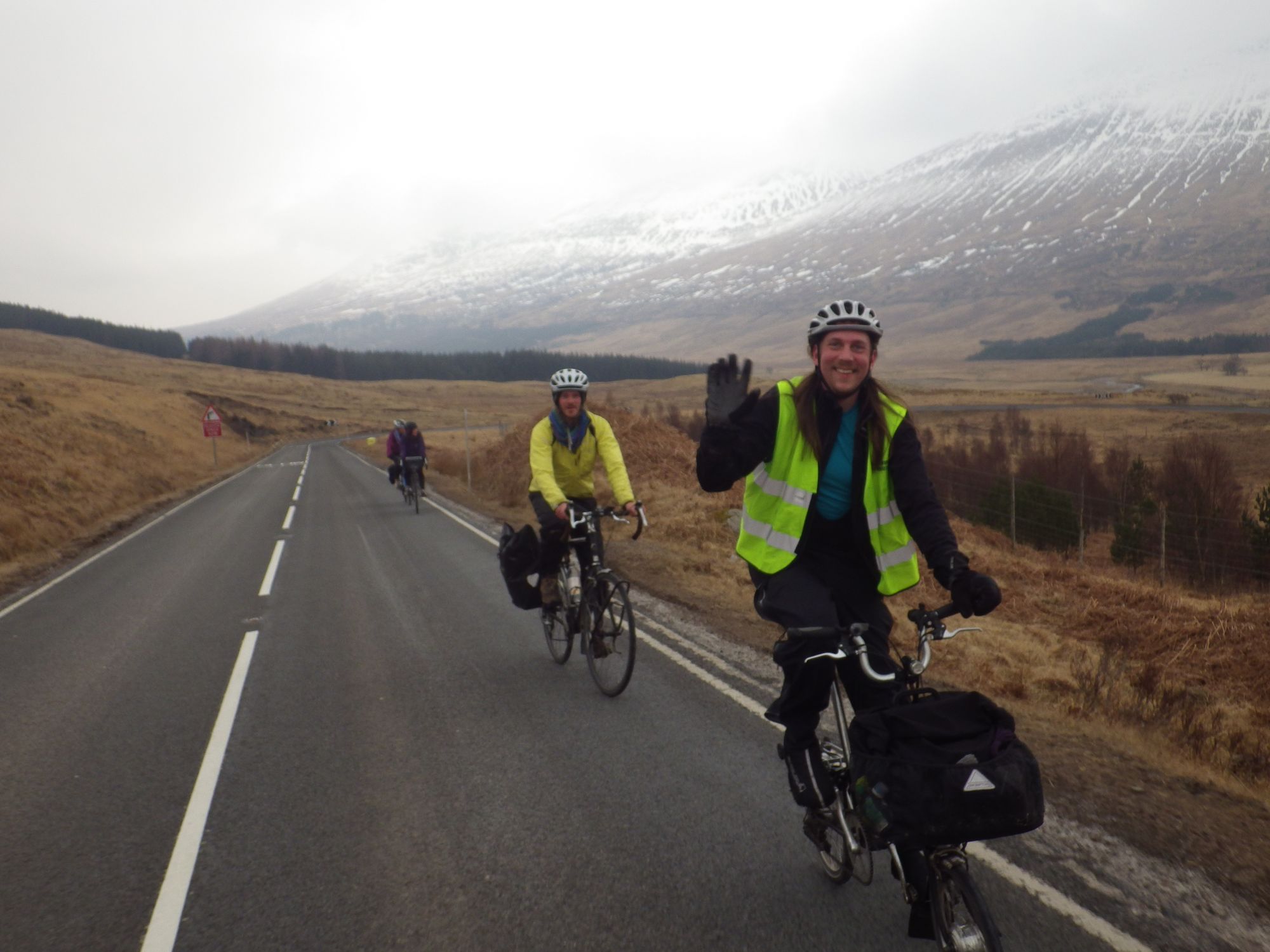 Since this journey has ended up being a major milestone in the development of United Diversity I though I had better re-post this write up I did for the Brake The Cycle blog here too. Enjoy!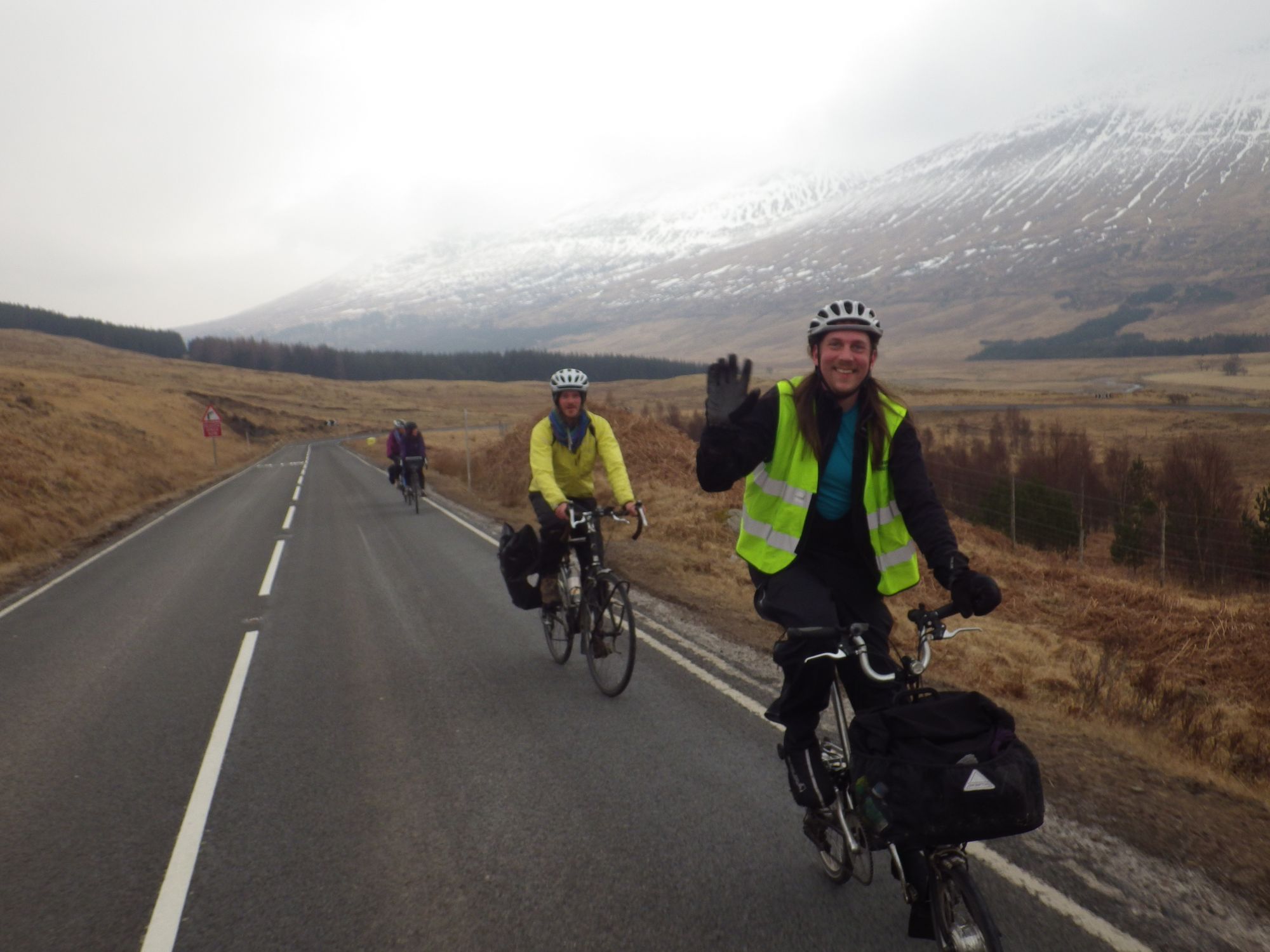 Last month I cycled about 1200 miles, from the south-easternmost tip of mainland England (Land's End) up to the north-westernmost tip of mainland Scotland (John O'Groats). I thus completed one half of the Brake the Cycle End to End challenge! 🙂
It was the UK's coldest spring on record.
And I was on my Brompton (one of those folding bikes with tiny wheels).
Yes, more than 1000 miles. In the cold. On my Brompton.
Please help me to complete the other half of the challenge (raising £500+ in sponsorship before Friday May 31st!) by contributing to our shared crowdfunding page here:
https://www.sponsume.com/project/end-end-building-man-fundraiser
Why did I end up going on this crazy adventure? How did I survive the cold? What were the best and worst bits? All will be revealed….
For me, it all started when Joe Reid and Marcus Letts met. They were working together as 'charity muggers' or 'chuggers', those street fundraisers who ask you to sign up to a direct debit on the spot. They figured there must be a more exciting and creative way to raise funds for causes they care about. Something that would get them off the streets of London. An adventure.
Their ambitious plan to cycle from Camden to Cape Town was born.
I had heard about the project via Marcus' sister Amy, who I knew due to our mutual involvement in Peace Not War, but at the time I'd never met either Joe nor Marcus. I had no idea how our fates were due to be intertwined…
Joe and Marcus never quite got to Cape Town. They did a Lands End to John O'Groats trip as a warm up, raised over £11,500 for Afrikids and Otesha, had great fun and made lots of new friends. They left London for Cape Town in Sept 2011, but having reached Turkey they found themselves unable to continue their journey.
"Syria was in the middle of a civil war and didn't seem too appealing, the British have spent the last few decades ruffling Iraqs feathers, and all ferries from Cypress to Egypt, Israel and Lebanon had been cancelled. As committed non flyers this was the end of our epic adventure, it was time to wave goodbye to the dreams of hippos and lions." —
Whilst in an Internet cafe in Istanbul, wondering what to do next, Joe and Marcus stumbled across my idea for Building Man Festival which I'd first written about in Sept 2005. They'd already been a great community arts festival called Cloud Cuckoo Land and had had very similar ideas and so they got in touch. I was VERY happy for them to run with the idea (and they have).
Then they went and organised an End to End cycle ride, raising funds for Building Man and visiting cool eco projects around the UK – how could I not join in?! And so I did 🙂
Below are some pictures and a brief day by day outline of my journey so you don't have to do it yourself! Please help me to complete the other half of the challenge (raising £500+ in sponsorship) by contributing to our crowdfunding page (asap).
Day 1 – March 28th, London -> Exeter -> Land's End -> Plan it Earth
We all met at Exeter station at midday, loaded up the Landrover and bus and then drove down to Land's End. We then cycled 7 miles to Plan it Earth, a small holding based around the principles of permaculture. I had got the train from London to Exeter in the morning, having stayed up all night working on the website for The Slaley Rose and Crown. Silly me.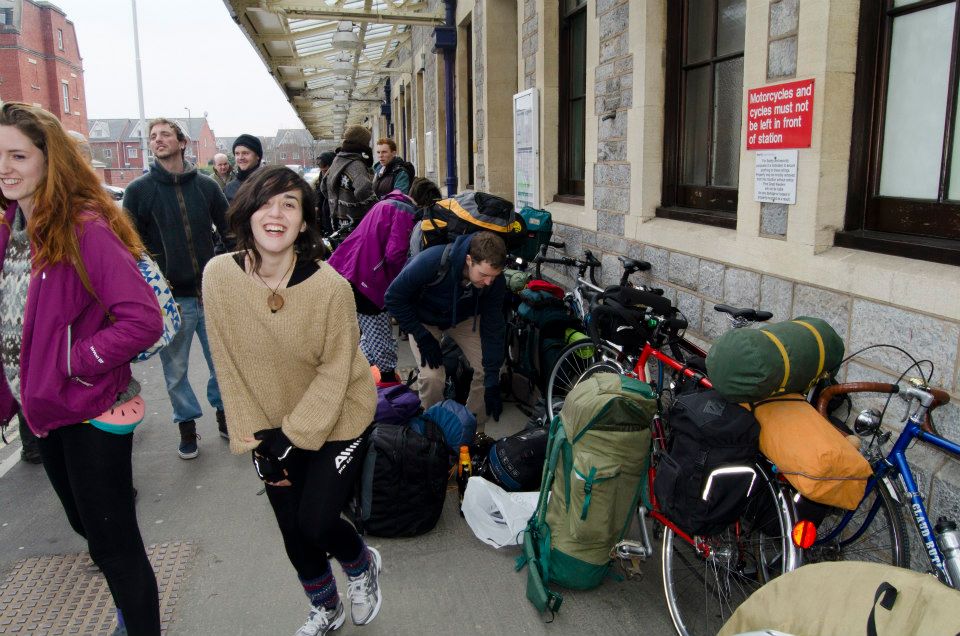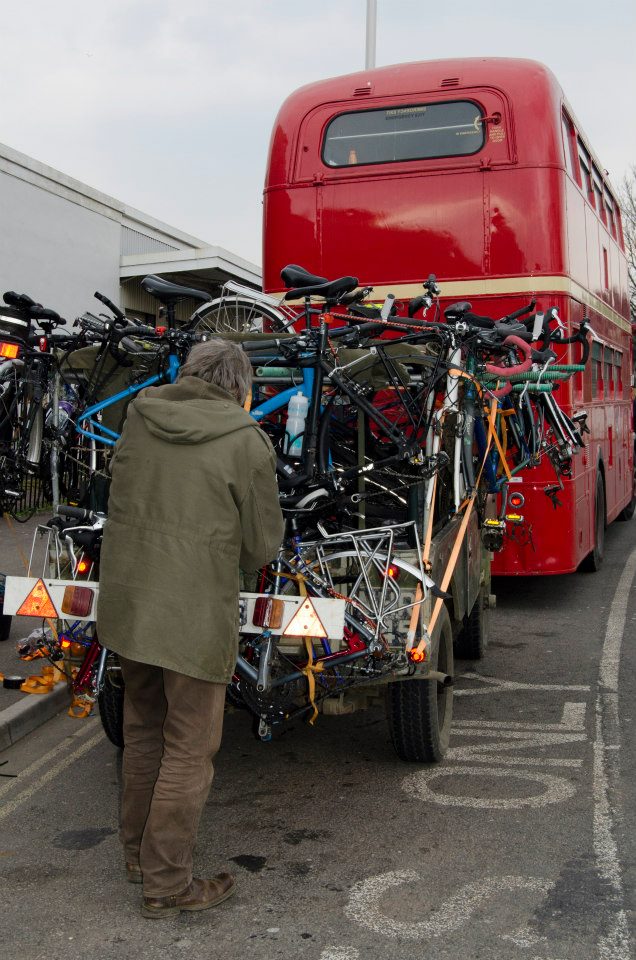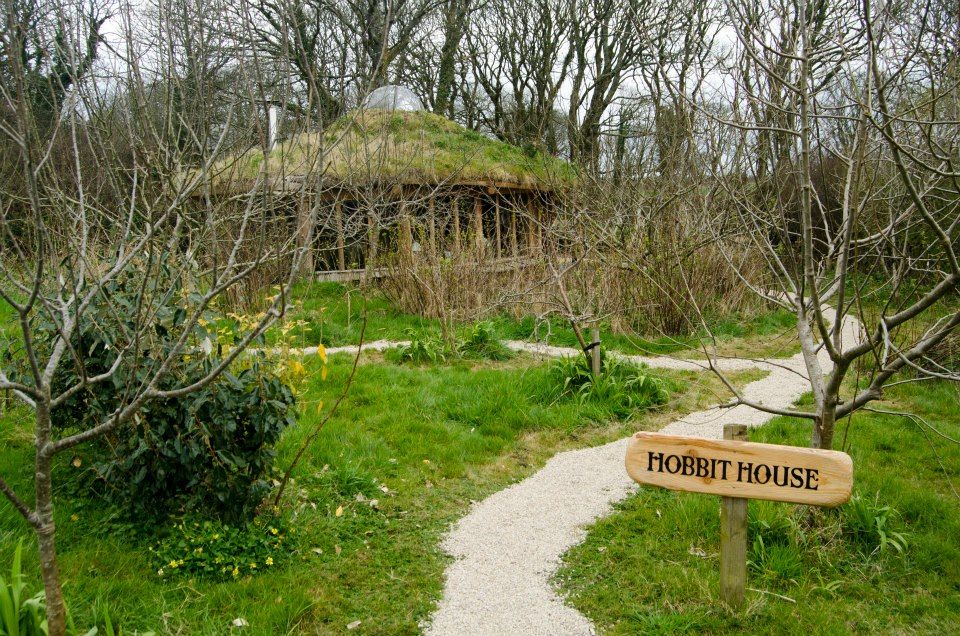 Day 2 – March 29th, Plan it Earth -> Trevalon ~ 65 miles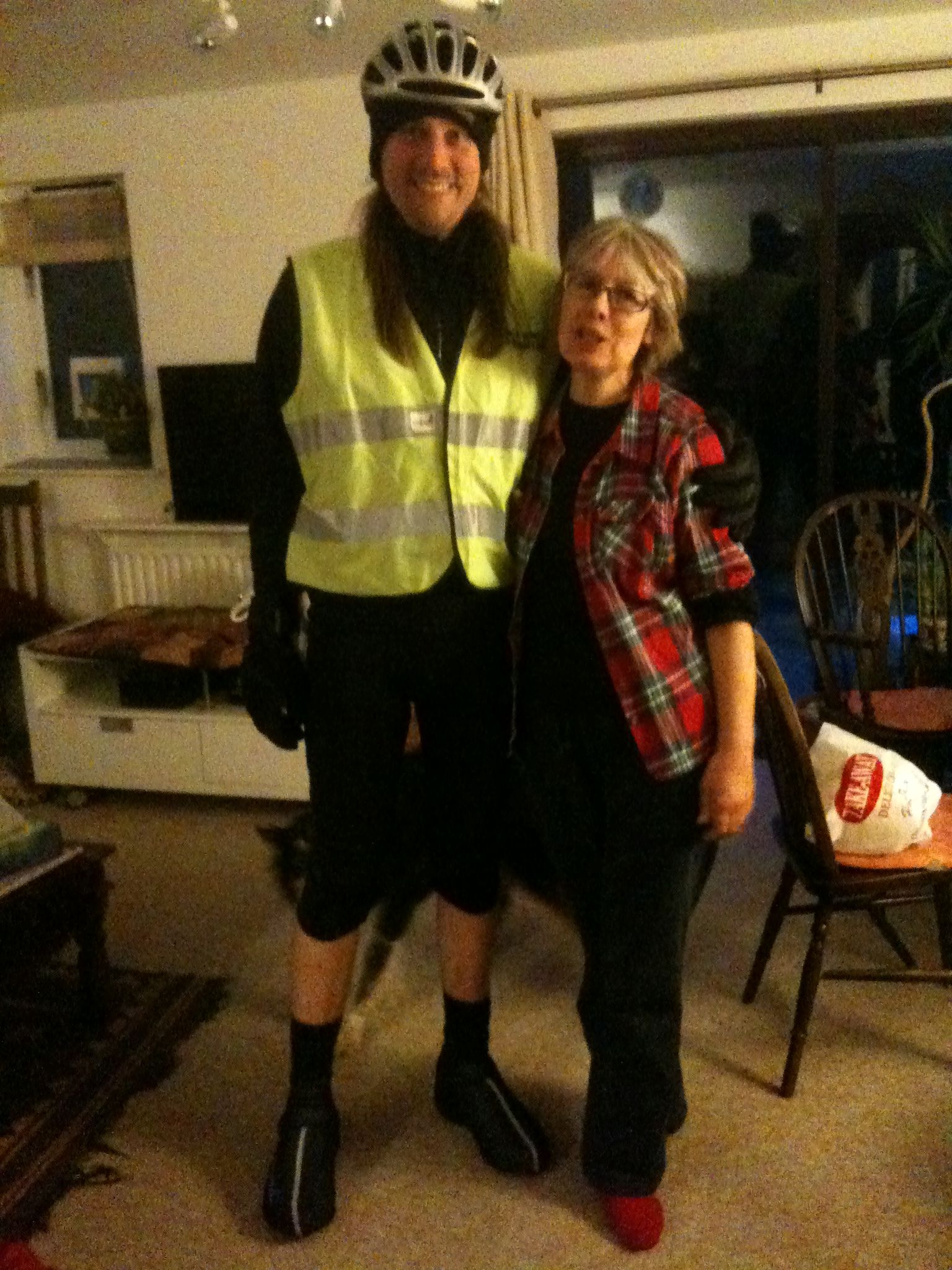 This was the first long ride. For most of us (including me) it was the longest we'd ever cycled in one day. Not yet having got into the slow and steady groove of long distance cycling, I was attacking each hill a bit too much. I was fine most of the way, and surprising people with my ability to climb hills with tiny wheels and very few (6) gears. Our group stopped at quite a few cafes and bars along the way and so it was late and dark before we arrived. I also stopped at one of my oldest friend's house near Mount Charles in Cornwall. Sadly he wasn't in, but his parents were. The picture on the left is me and his mum Jane 🙂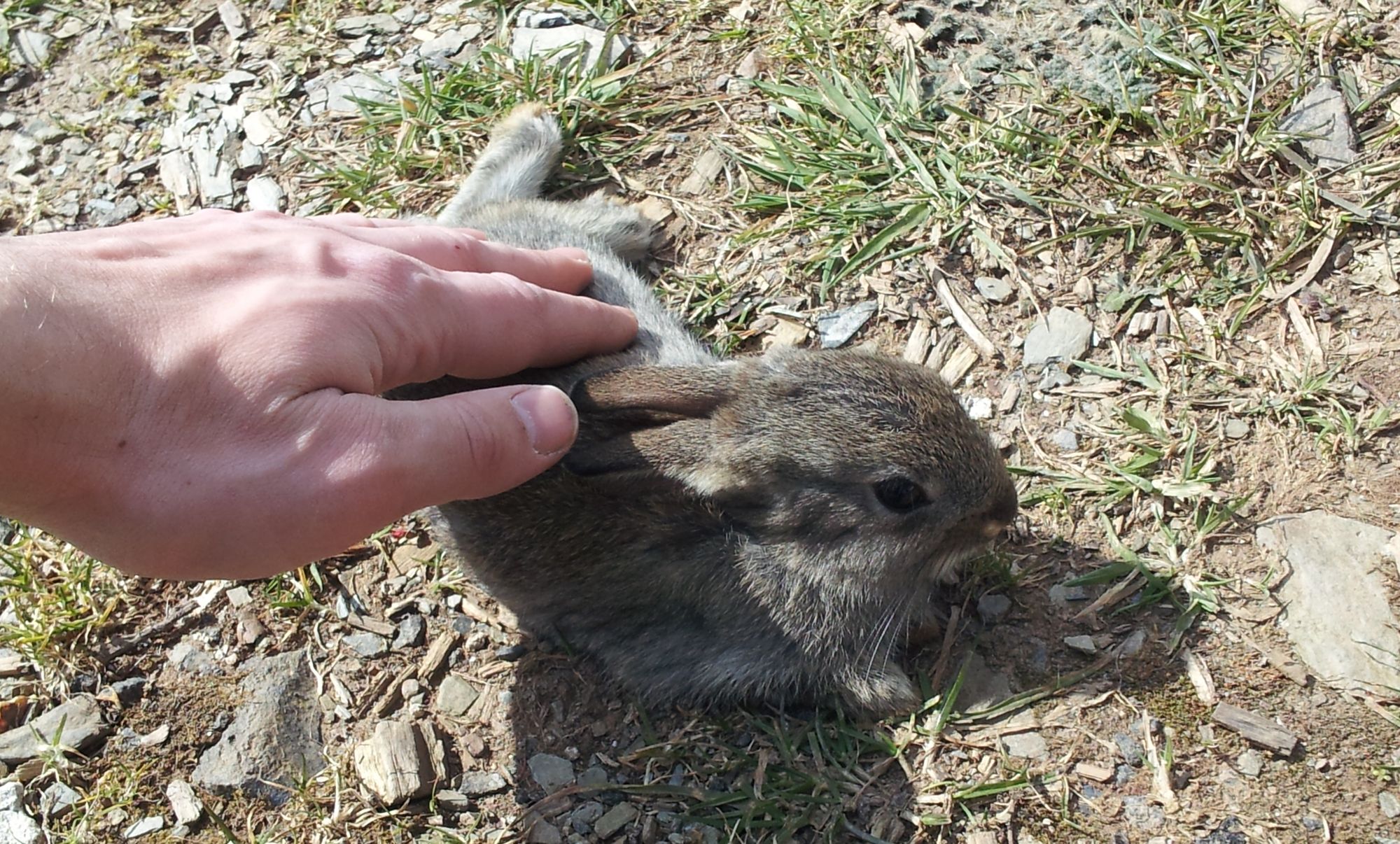 We got a call from camp when we had about 10 miles to go, asking if we wanted to be rescued. The unanimous decision was that of course we didn't want to be rescued – only 10 miles left, we're going to smash it! 5 miles later I felt terrible and really would've quite liked to have been rescued. I had terrible wind and digestion issues. Turns out I had over exertion sickness. After using the very last bit of my energy to get changed and pitch my tent in the dark, I threw up. I was also freezing cold. It had been cold all day, but whilst cycling you don't really notice it that much. However, the final descent (before an absolutely ridiculous 17% ascent that I walked up, obviously), was by far the most freezing. Apart from being sick, I was bitterly cold. I got very little sleep at Trevalon (a nice organic farm and Community Supported Agriculture project)
Day 3 – March 30th, Trevalon -> Landmatters ~ 46 miles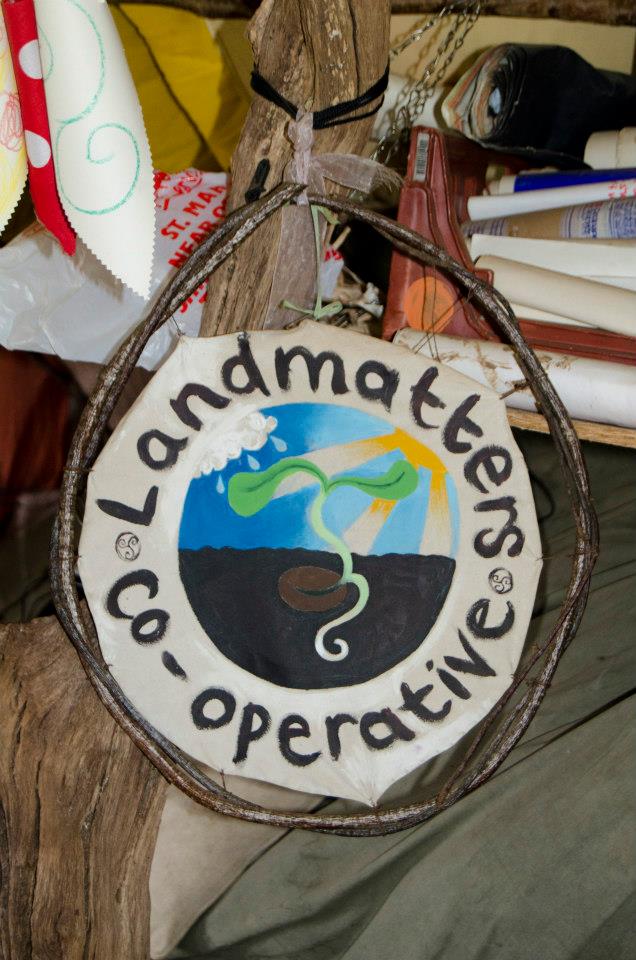 Having been sick and not slept the night before, I decided that instead of cycling I ought to take a 'bus day'. Rich (who had also been on my team the day before) took a bus day too. We helped to pack down the bus marque, I packed people's tents into the Landrover, and then headed off for lunch in Totnes. It wasn't really much of a rest (I failed to get the siesta I was hoping for), but at least I got a rest from cycling. Although I also missed the first day of cycling in the sunshine.
We arrived at Landmatters before any of the cyclists had arrived and so proceeded to put up people's tents. We also had time to meet and chat to the residents of Landmatters Co-operative, an inspirational permaculture community.
The next morning lovely Charlotte gave us a tour of the site. I videoed a load of that, so you can all go on the tour too!

Day 4 – March 31st, Landmatters -> Embercombe ~25 miles
A relatively short cycle ride to Embercombe "a charity and social enterprise established to champion a way of living that celebrates the opportunities inherent in this challenging time and that inspires people to contribute energetically towards the emergence of a socially just, environmentally sustainable and spiritually fulfilling human presence on earth".
I'd been to Embercombe before. A great place with great facilities.
Day 5 – April 1st, My Birthday! Embercombe -> Fernhill Farm ~80 miles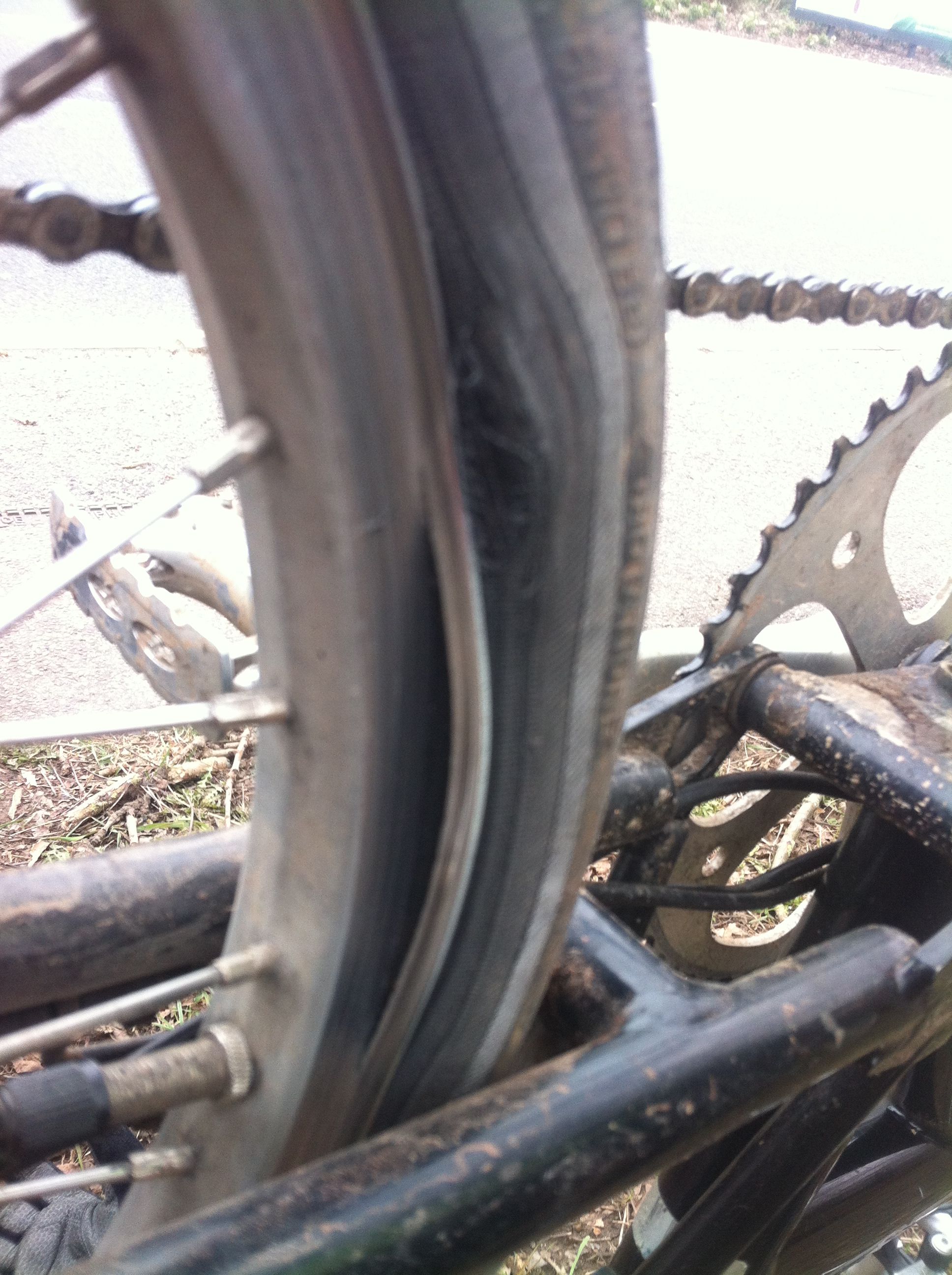 Our first 80 miler. And my 35th birthday. After a relatively steep 8 mile descent from Embercombe into Exeter, my wheel broke. I was incredibly lucky that the wheel didn't break going down those steep hills, or in the middle of nowhere, but just as we arrived in a city. I was even luckier that the very first cyclist who cycled past (literally the very first one) was a bicycle mechanic. At a Brompton dealer. On his way to work. 🙂
The bike shop didn't have a whole wheel in stock and so had to rebuild my existing wheel using a new rim. This forced us to spend a couple of hours in a lovely little cafe on the green beside Exeter Cathedral. A very nice relaxing start to my birthday 🙂
The rest of the day was fairly uneventful. Whilst it was a long ride, it was mostly flat and the weather was almost pleasant. Still, with the delayed start it was dark by the time our team got to the bottom of Cheddar Gorge.
Joe Letts (Marcus' Dad, who runs The Big Red Bus with his wife Thea) had popped out in the Landy to buy some nice local cider (in part so we could properly celebrate my birthday), and was about to drive back up the gorge to Fernhill Farm just as we got to the bottom of the hill. Since it was my birthday I decided to fold my Brompton up and jump in, thus missing out the steep hill.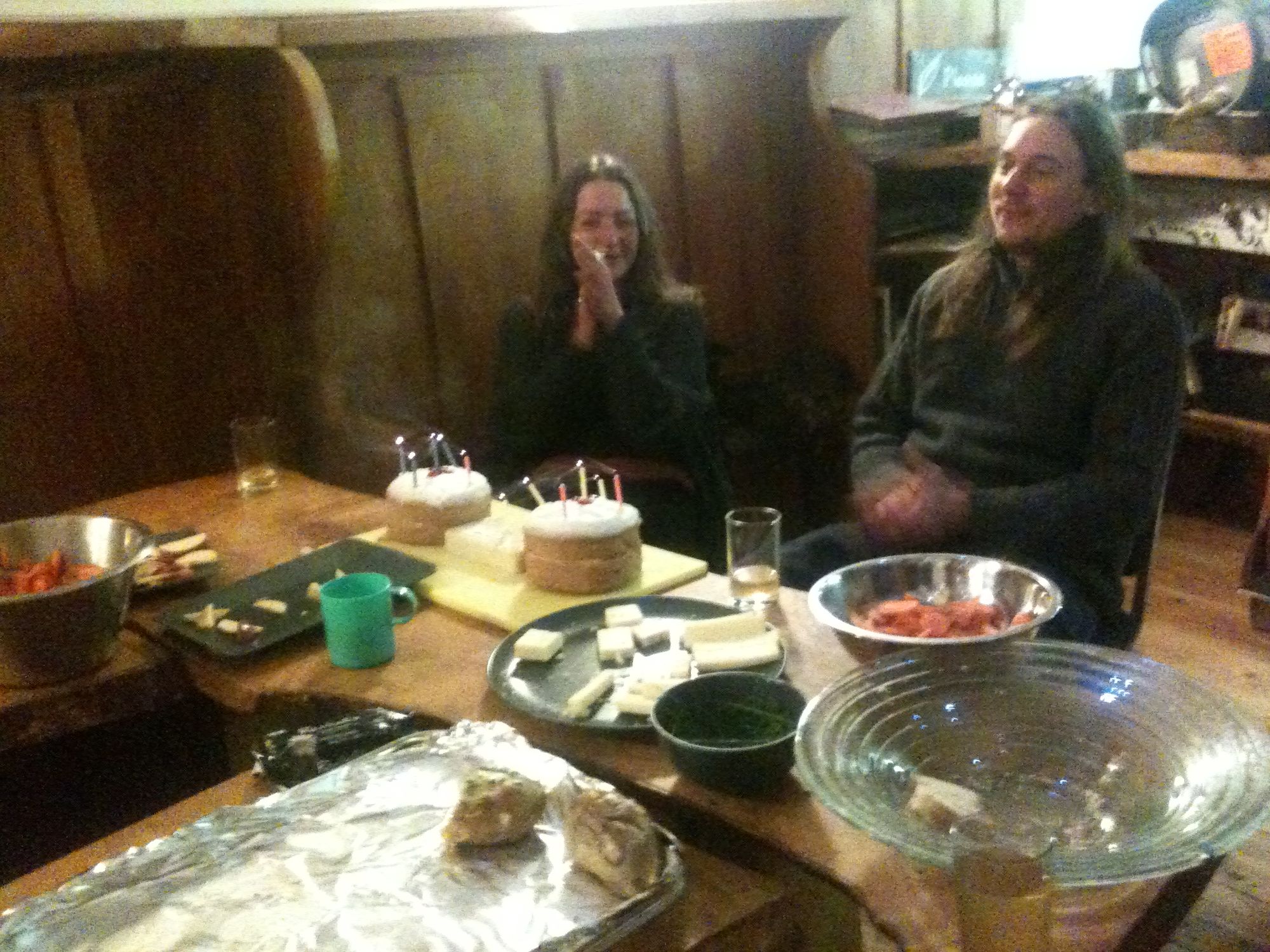 Upon arriving at Fernhill Farm I was greeted with a warm welcome and a delicious cheesy dinner made especially for me (yes, despite it being only day 5 my love of butter and cheese was already widely known because whenever we stopped somewhere I bought some to share at dinner). I'd cycled, showered, eaten, been given lots of birthday love and was looking forward to sleeping in a nice big warm bed (Fernhill has lovely facilities). It felt like the best birthday ever.
Day 6 – April 2nd, Fernhill Farm -> Bristol ~20 miles
Another day, another Brompton disaster. This time my handlebar snapped in half! But again, amazing luck both where it happened and how easily I managed to get it fixed. Our relatively short ride down into Bristol had it's fair share of steep downhills. But thankfully my handlebar didn't break on any of them (that could've been very painful). Instead, much like had happened the day before, it happened just as we arrived into the city. And I was on the flat. I cautiously cycled (with a half a handlebar) to the nearest Brompton dealer. But they didn't have any handlebars in stock… turned out they did have a mangled Brompton that had been in a bad accident that someone had given them for parts… turned out it had the same model of handlebar as me… they sold me it for a fiver – bargain! 🙂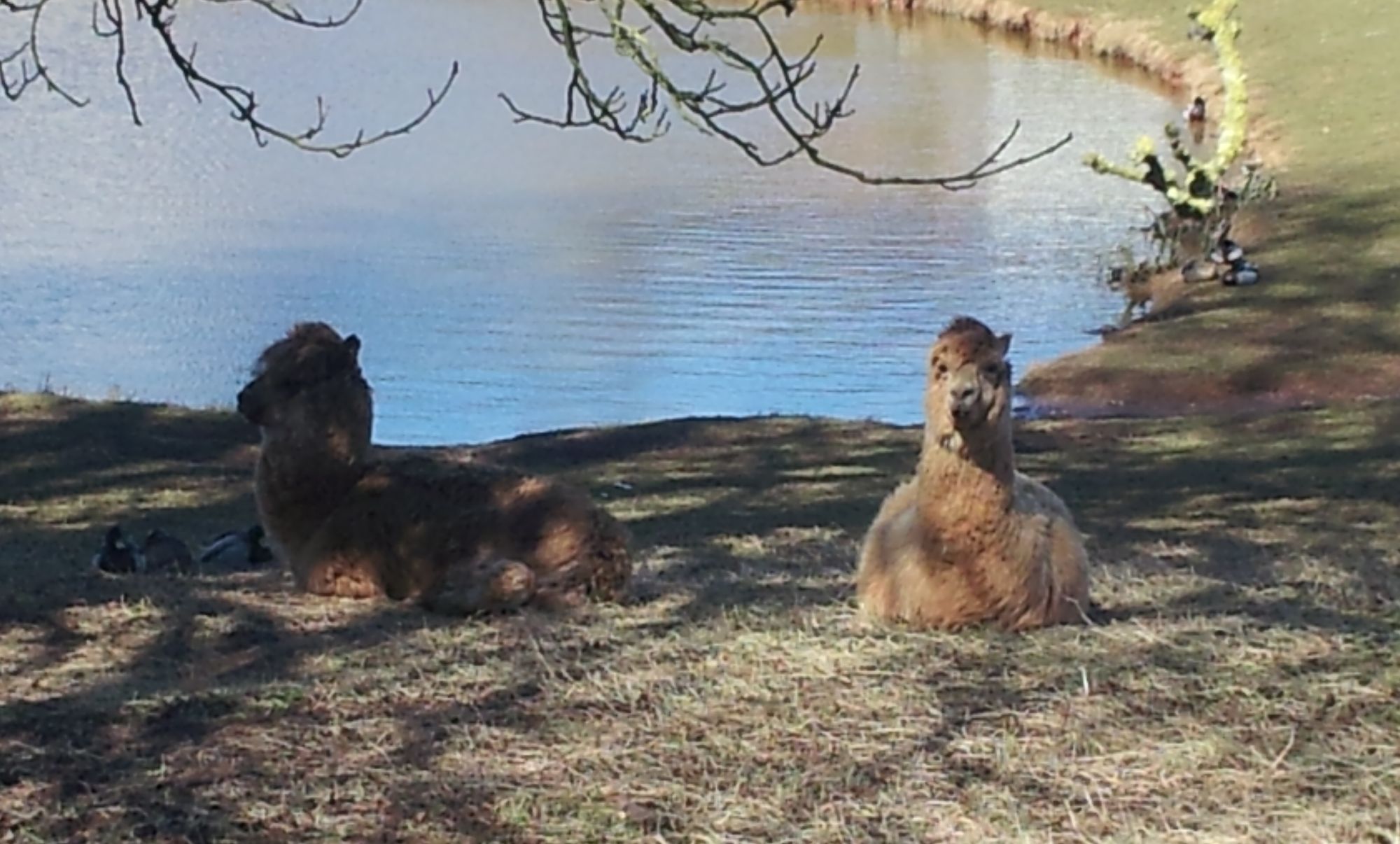 In Bristol we threw a Gift Economy party at Hamilton House/ Coexist. We split into teams to set-up, to go skipping (getting food out of bins behind supermarkets etc), ask local shops for any food they can spare/ is about to go to waste etc. Somehow, seemingly out of nowhere, we put together a huge, delicious, nutritious food waste banquet and fed over 100 people for free. Amazing. There were then some talks about Building Man and a load of great live music. All in all a great day and a great party. Together with fellow cyclists Rich and Sam, I then went to stay with my old friend's Tom and Hannah (I also borrowed Tom's excellent sleeping bag – no more cold night – thanks Tom! 🙂 )
Day 7 – April 3rd, Bristol -> Bodenham Manor ~70 miles
Another long day. This time to Bodenham Manor, the site of Building Man Festival 2013 and where I am now. This was a great opportunity for the all the End to End cyclists to visit the place we were all raising funds for. For those of us who had visited previously for Building Man planning events, it was also really great to see how much the residents had got done themselves last time we were there.
Day 8 – April 4th, Bodenham Manor -> Karuna ~50 miles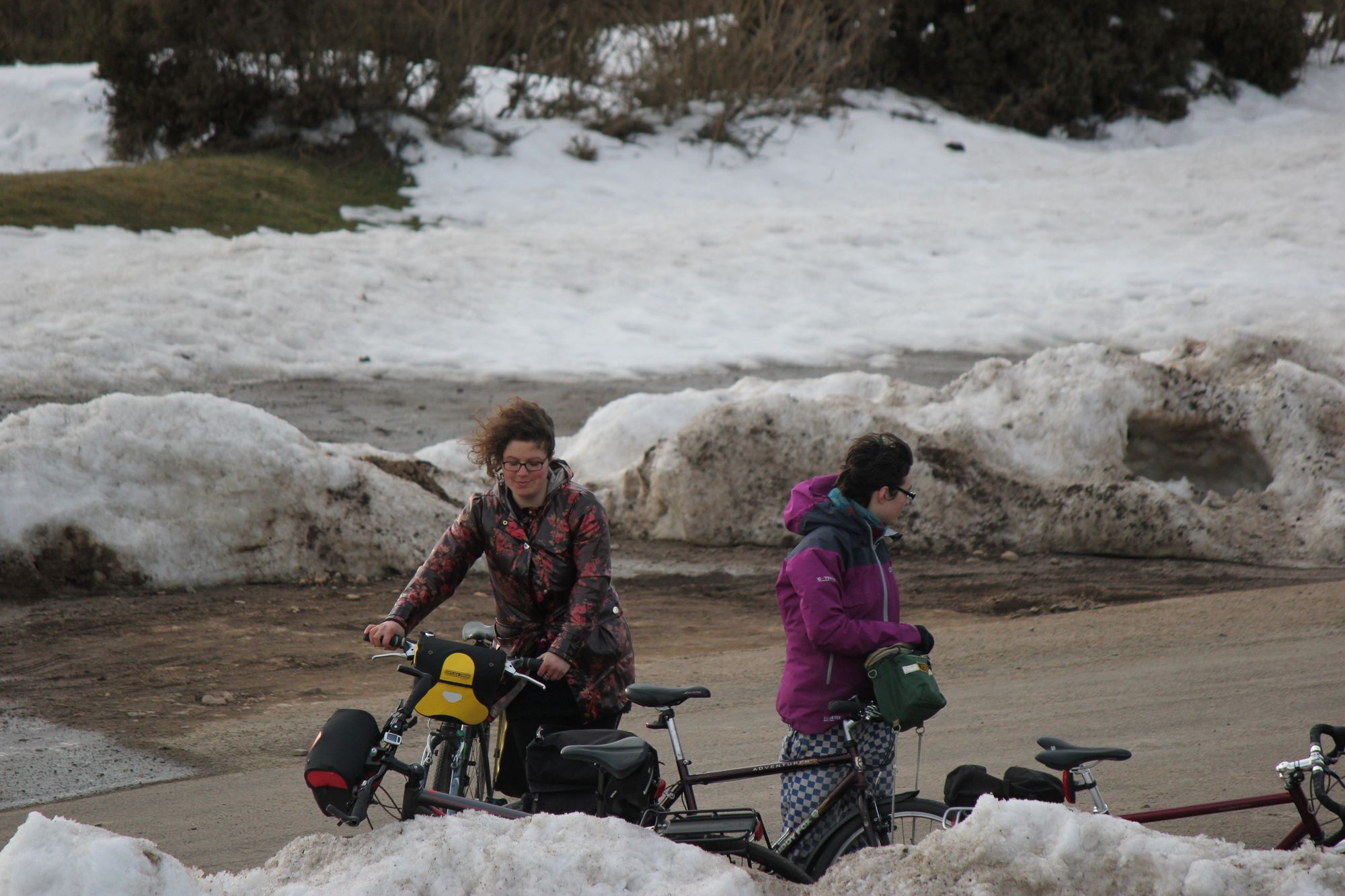 It was snowing as we left Bodenham Manor in the morning. As we travelled further north and up to higher altitudes towards Karuna (a permaculture project focussed mostly on growing 1000s of trees) the hills got more and more covered in snow. It was a cold night camping under clear skies on ground still wet with snow melt. But most of us doubled up in our tents and wrapped up extra warm. I actually got one of the best camping nights sleep so far.
Day 9 – April 5th, Karuna -> Riverside Organics ~80 miles
A long but lovely ride, including more love from the cycle gods in the form of being rescued by 'Steve the Saviour' (sung in the tune of Bob the Builder). As we got to Nantwich, about halfway to our destination, Tom, as usual, got another puncture. Again. He got over 10 during the the course of the ride and had already had at least one so far today! Whilst Tom was busy fixing his puncture, I stood in the doorway of a shop sheltering from the cold winds. I was concerned that the quality of his spare spare inner tube and puncture repair kit weren't up to scratch (by this time he'd already had numerous brand new inner tubes explode whilst being pumped up – there were of poor quality and not really wide enough for his tyres) and so I decided to use the last bit of battery on my phone to try and find cycle shops nearby. It was 6.45pm and so all the ones I tried didn't answer the phone because they were already closed. Thankfully, Steve's Cycles lists a mobile number. I immediately gave Steve a call. He'd closed at 5.30pm, but had just finished locking up and, whilst he was already on his way home, he wasn't yet too far from his shop. I told him we we're doing Land's End to John O'Groats and explained our predicament. He went back to his shop, picked us up a couple of inner tubes, and then came and delivered them directly to us. He even helped to fit them – what a saviour! Thank you Steve! 🙂
Riverside Organics is a lovely organic farm and has four generations under one roof. The children here were really excited about our arrival because they remembered and loved Chris from Up-Cycle, one of the participants/ team leaders who had been on the trip two years before. After a nice big meal we all slept together in their (cold, drafty) barn.
Day 10 – April 6th, Riverside Organics -> Offshoots Permaculture Project ~50 miles
The thing that really made my day on this ride was seeing the urban sheep near Waterfoot in Rossendale, Lancashire. Right here, to be exact. A bit further on we passed Co-operation Street, which also made me smile.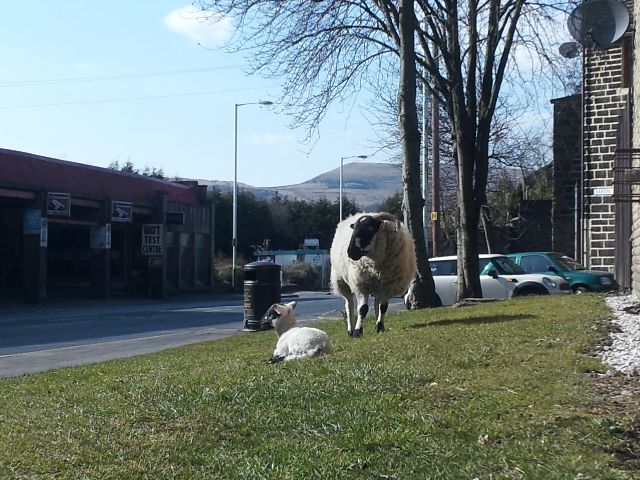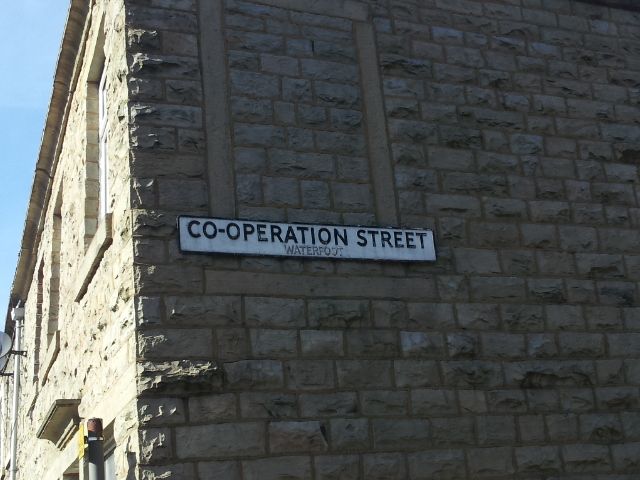 The last downhill into Burnley had epic views. The perfect end to another great day of cycling. To really round it off we arrived at Offshoots a LAND demonstration site which along with Landmatters was my favourite of the projects we'd visited so far. Phil gave us a really informative tour of the place which I filmed and put online:
Day 11 – April 7th, Offshoots Permaculture Project -> Sprint Mill ~60 miles
As usual for this trip, it was a cold morning as we left Offshoots, as evidenced by this picture of a frosted helmet someone (thankfully not me) had left outside for the night.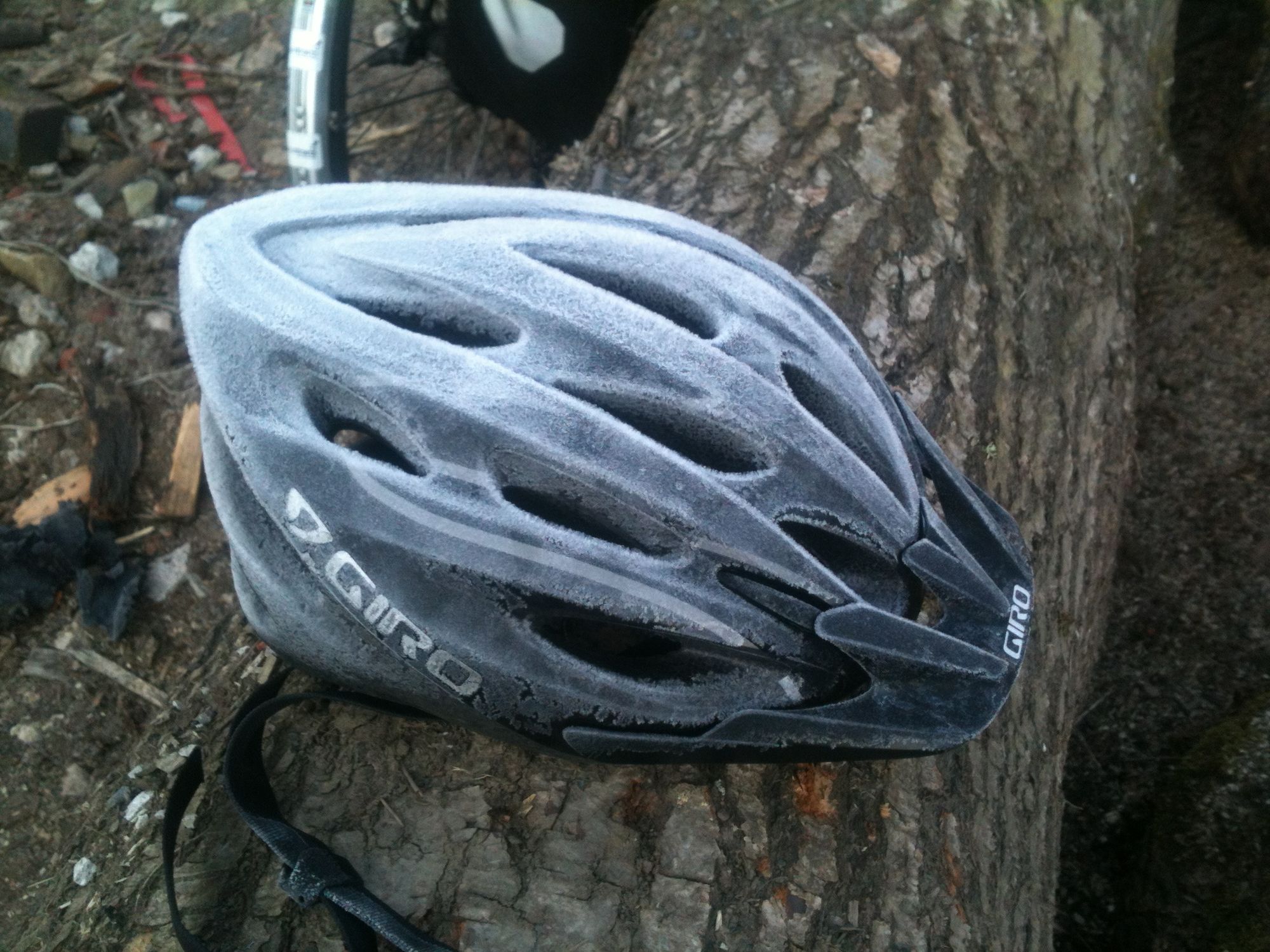 I don't remember too much about this day's ride, but did take this picture of a another road sign that made me smile.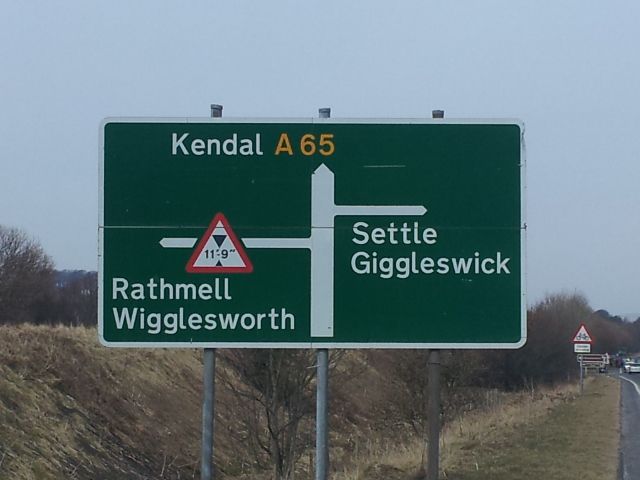 Sprint Mill is a beautiful site in the Lake District. A small holding that specialises in woodland management with only hand tools used on site and a lot of green woodworking. I really liked how they gave newly felled hazel poles etc to the goats to de-bark before stacking them up to dry. The goats do a really great job. Edward, who owns/ runs the place was a lovely eccentric chap too. He collects all sots of random stuff and neatly organises and indexes it all.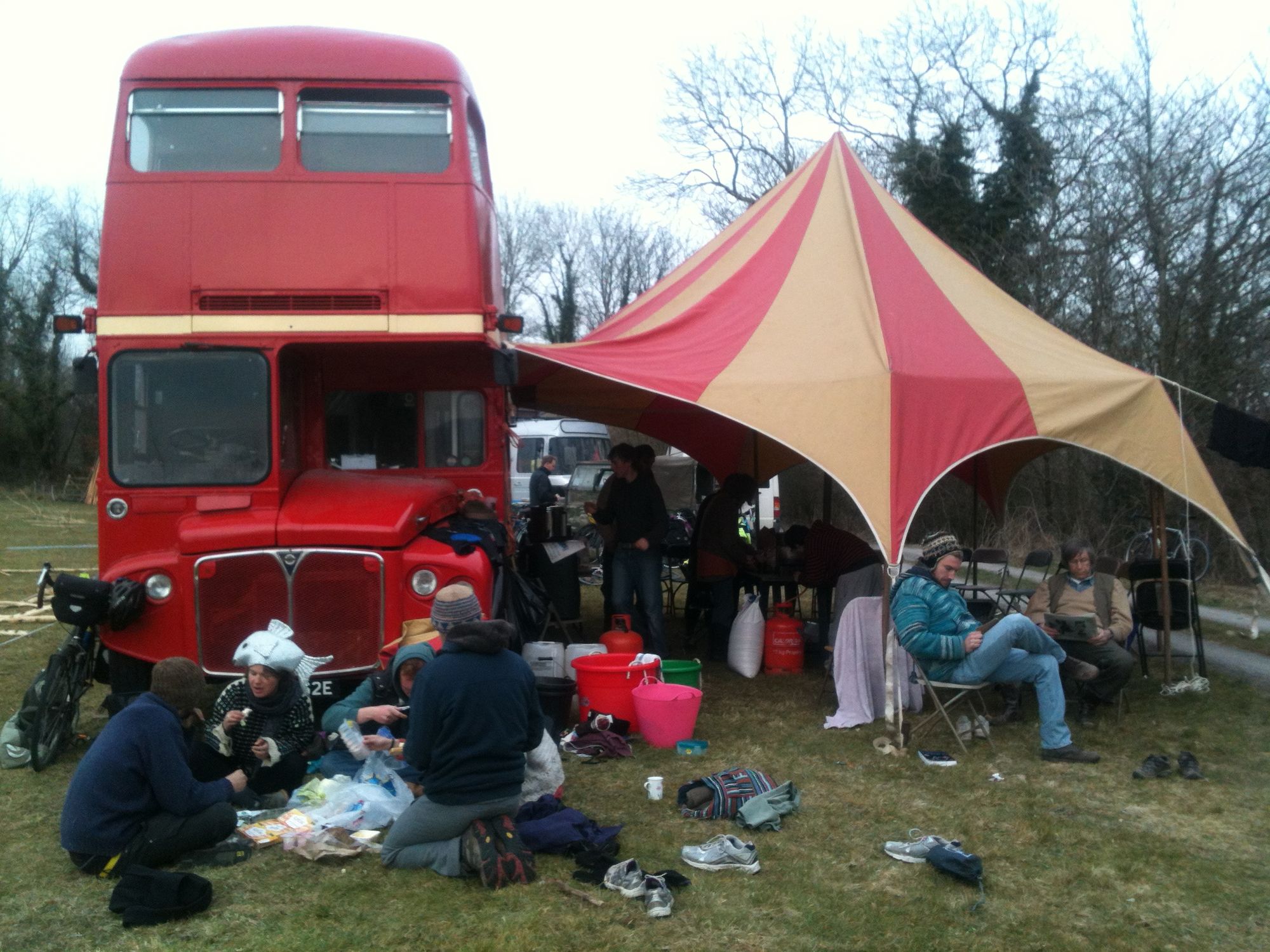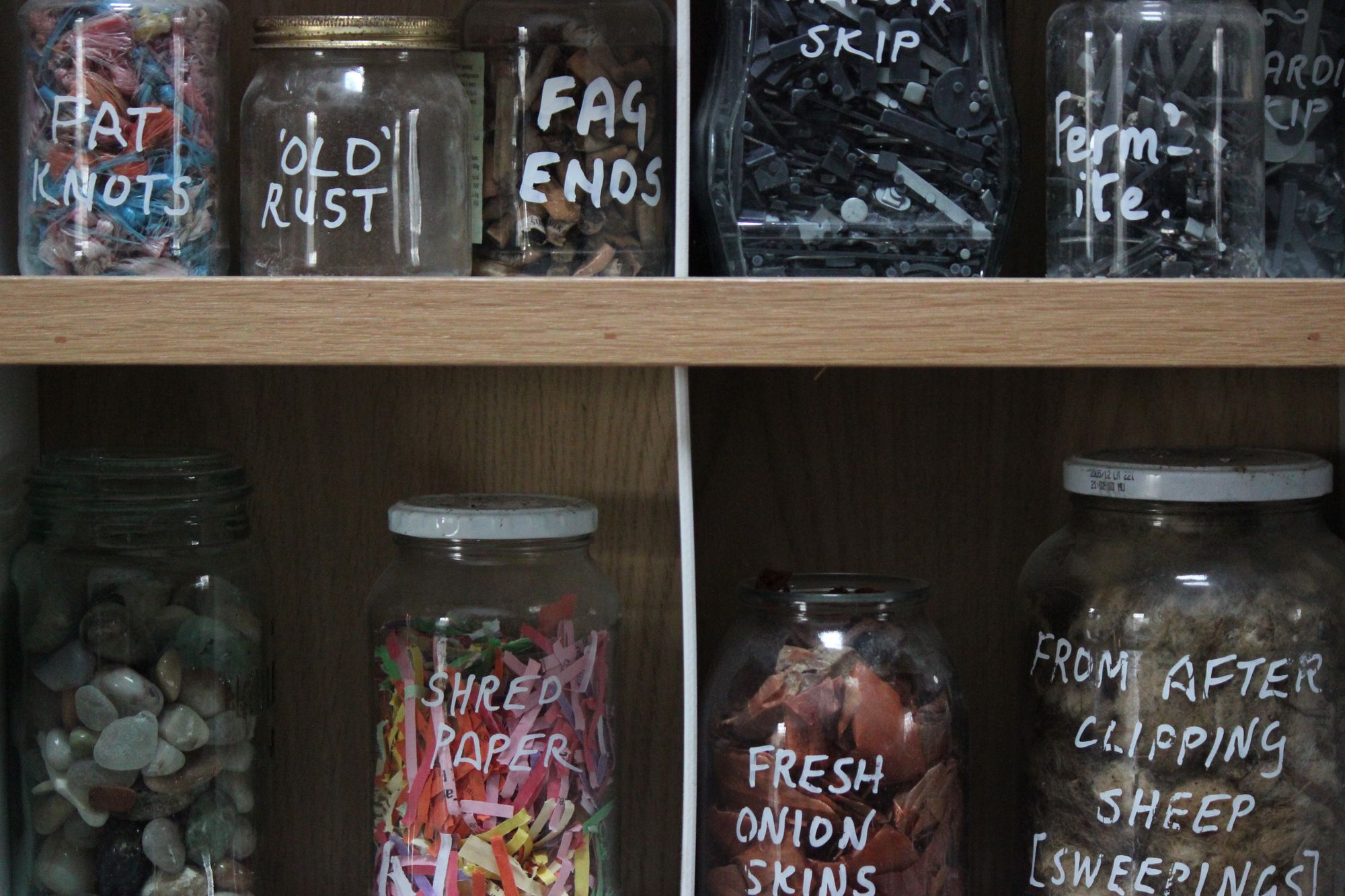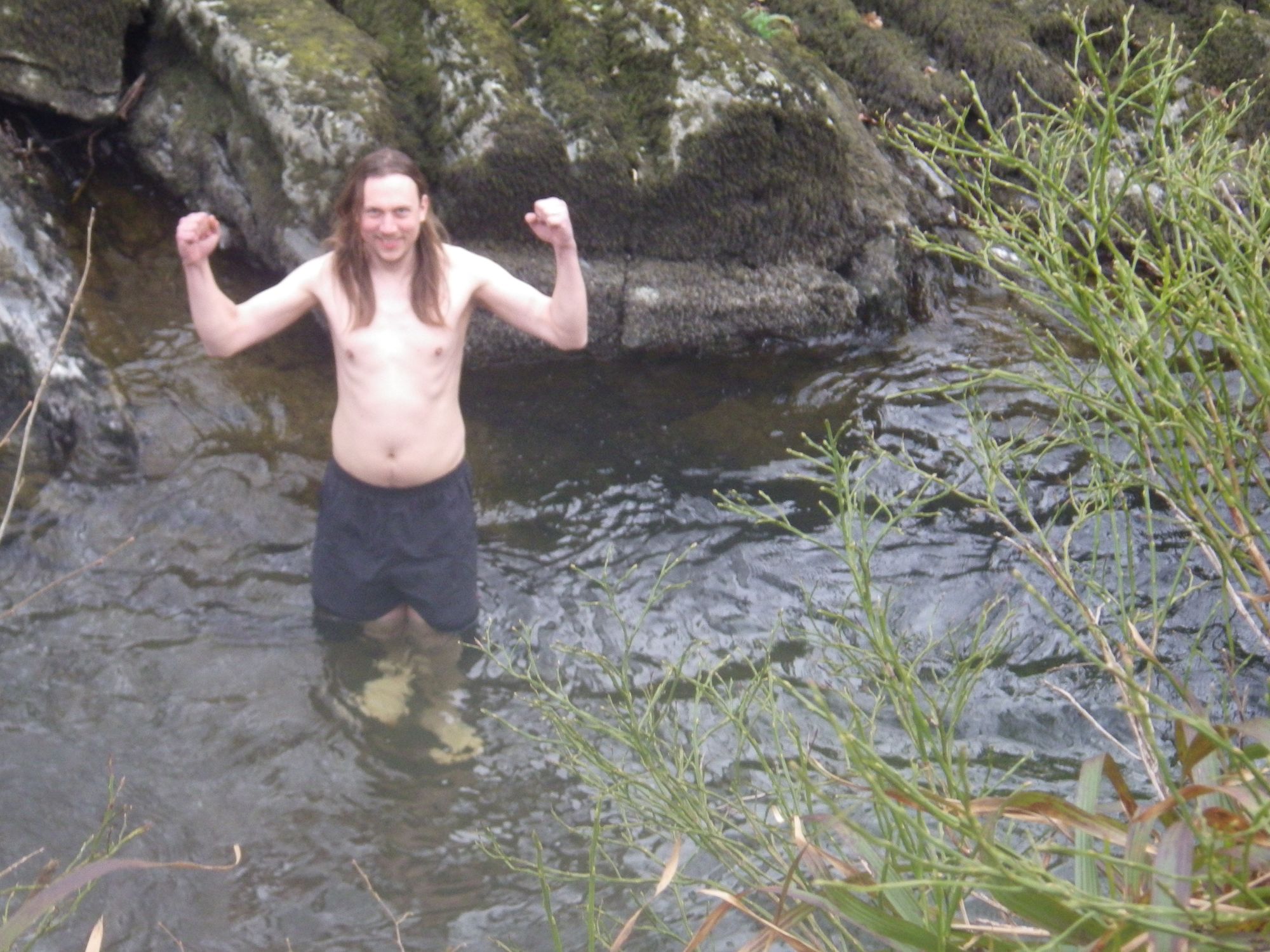 Despite the cold, having not showered for days most of us opted for a quick dip in the beautiful but freezing cold river. No one stayed in for long. It was so cold that my foot went completely numb for about an hour or so afterwards. Was still nice though 🙂
Day 12 – April 8th, Sprint Mill -> Drybeck Farm ~40 miles
I was hoping that we'd see more of the Lake District than we did. And that I'd get to pop in on Helen who lives in the area. However, as we cycled into Windermere from Kendal, Brendan was knocked off his bike by a car turning into him. He was a little shaken up, but thankfully not hurt. We decided to stop for lunch. Seeing our bikes parked up outside a cafe/ bar place, a bunch of other teams stopped to join us too. We had a relatively long lunch and then hit the road again. Just around the corner from where Brendan had come off his bike an hour or so before, Julia stopped on a steep hill to pick up someone's hat that had fallen off the back of their bike. Brendan didn't see her. He went into the back of her bike a full speed and went flying over his handlebar. This time he was very badly hurt 🙁 and his lovely old Claud Butler racer was a complete write-off too – the frame was badly bent beyond repair 🙁 turns out Brendan had broken his collarbone and had dislocated his shoulder. Somehow the hospital missed the dislocated shoulder and so upon return to Bristol he had to get another operation to get it back in. Thankfully that went well he is now healing well and is back in the full swing of Bristol life 🙂 (and, despite not being able to cycle any more, Brendan did rejoin the tour and stayed with us until the end 🙂 )
The whole accident thing shook us all up and and created a really emotionally charged day. Tears are coming to my eyes remembering it all now. Brendan had been on my team that day, and so we were quite delayed in getting to Drybeck Farm, a diverse farm with eco tourism focus. I didn't really get to see much of it, but I did manage to have a nice shower. And about 10 miles before we got to our destination we passed through a village called Unthank, which I found amusing.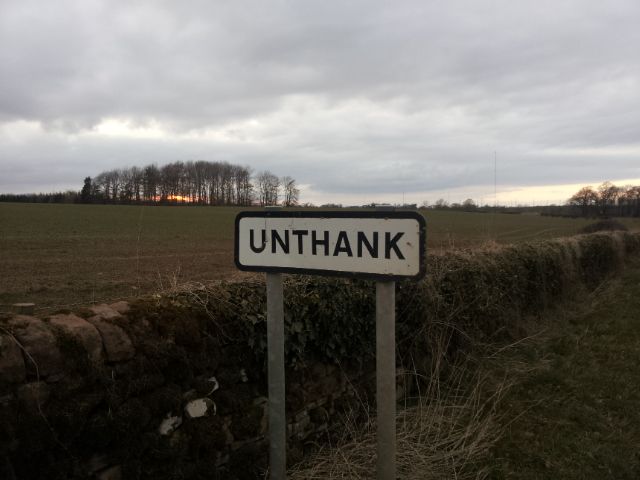 This was our last day in England.
Day 13 – April 9th, Drybeck Farm -> Talamh Life Centre ~80 miles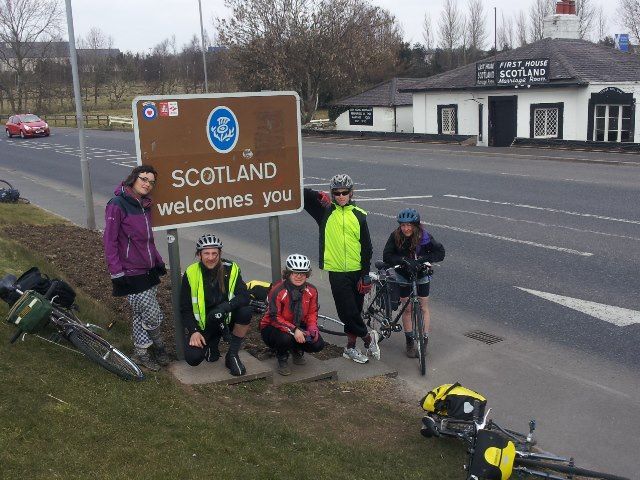 This was, by far, my least favourite day of cycling. It was long and boring. Very boring. The little wheels on my Brompton really didn't like the bumpy tarmac on the old unmaintained A-road that ran parallel to the motorway that replaced it either. In order to pass the time I ended inventing the 'litter game', which was simply to say out loud the brand name of the litter we saw by the side of the road as we cycled by. Somehow it helped. Julia even started singing re-enactments of old adverts she remembered .
The highlight of the day was probably Steve the Saviour 2. Having arrived in Scotland we were looking for somewhere to stop for lunch. The first couple of towns didn't have anywhere open. At Ecclefechan we went into the Ecclefechan Hotel. It seemed to be open but no one was in reception, nor at the bar. Eventually Steve appeared. He said we were welcome to eat our packed lunch but they were in the middle of refurbishment and therefore technically closed. But he soon took a shine to us and before long he got a raging fire going, served up some beer and put some chips on. Legend. Thank you Steve!
Talamh is a housing co-op with 50 acres or so of land. They are a member of Radical Routes a network of housing and worker co-ops and social centres whose members are actively working for social change. The team I was part of arrived very late and I was feeling poorly, like the beginning of a cold of flu was coming on. I took a load of medicines and immune boosters and went to bed.
Day 14 – April 10th, Talamh Life Centre -> Luss Campsite ~80 miles

Another 'bus day' for me. The cold I'd started getting the night before had made it hard to breath and therefore hard to sleep. I had barely slept and so didn't feel up for the 80 mile ride to Luss. Luss campsite is beautiful campsite at the heart of Loch Lomond. Really lovely location and probably the most picturesque place to date. A proper campsite with full facilities I also managed to get some much needed clothes washing done.
Day 15 – April 11th, Luss Campsite -> Torlundy Farm ~80 miles

Best. Cycling. Day. Ever.
I can't recommend doing this ride strongly enough. Pretty much all the way along from Loch Lomond through Glen Coe to Fort William it utterly awe inspiring scenery. Plus it seemed to be mostly downhill or flat. Absolutely wonderful day. We all stopped for celebratory drink in Fort William.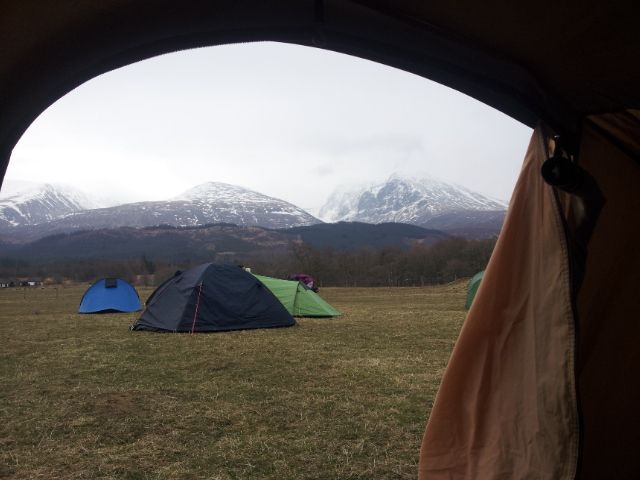 I logged into the wifi of the hotel where we were drinking and read an email from Zoe of the Ecological Land Co-op – they've got planning for three eco small holdings in Devon! Really great news. The perfect end to a perfect day. 🙂
Torlundy Farm (Fortwilliam Chalets) at the foot of Ben Nevis was a lovely site too. Be sure to check out the Organic Beats Highlands Gathering they organise on a similarly spectacular site nearby. Well worth the visit.
Day 16 – April 12th, Torlundy Farm -> Anam Cara ~65 miles
Our itinerary described this day as a "Beautiful ride along Loch Ness" which, after the incredible day before, had raised my expectations a bit too much.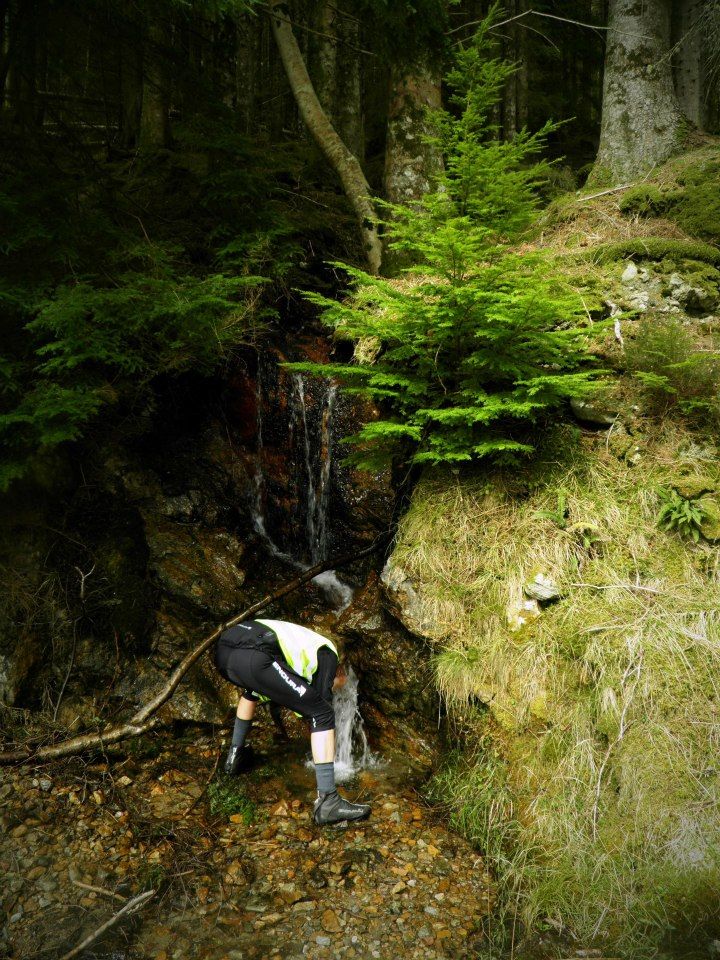 I had assumed a beautiful flat ride alongside the waterside. But the road is often not very close to the water at all, and very often really quite hilly. Especially at the beginning when we opted to try out the cycle route instead of the main road: it ended up being pretty much and off road track; parts of it were very pleasant, and I had a nice drink at a waterfall, but I wouldn't do that bit again.
Thankfully at the end of the cycle path track there was a nice pub barge where we all stopped for lunch to celebrate Joe Reid's birthday. The Eagle Barge Inn didn't have the fastest of service but I really liked the lovely chap who ran the place. Quite a few of us didn't have any cash on us. He said that we were all – all 20 of us – most welcome to eat regardless and send him the money afterwards. He said he'd been doing such a deal for anyone without money for the last eight years and so far no one had let him down. But that the first people to do so would then ruin it for everyone else. Turned out no one needed to take him up on his offer in the end (we had enough money between us), but it was lovely nonetheless.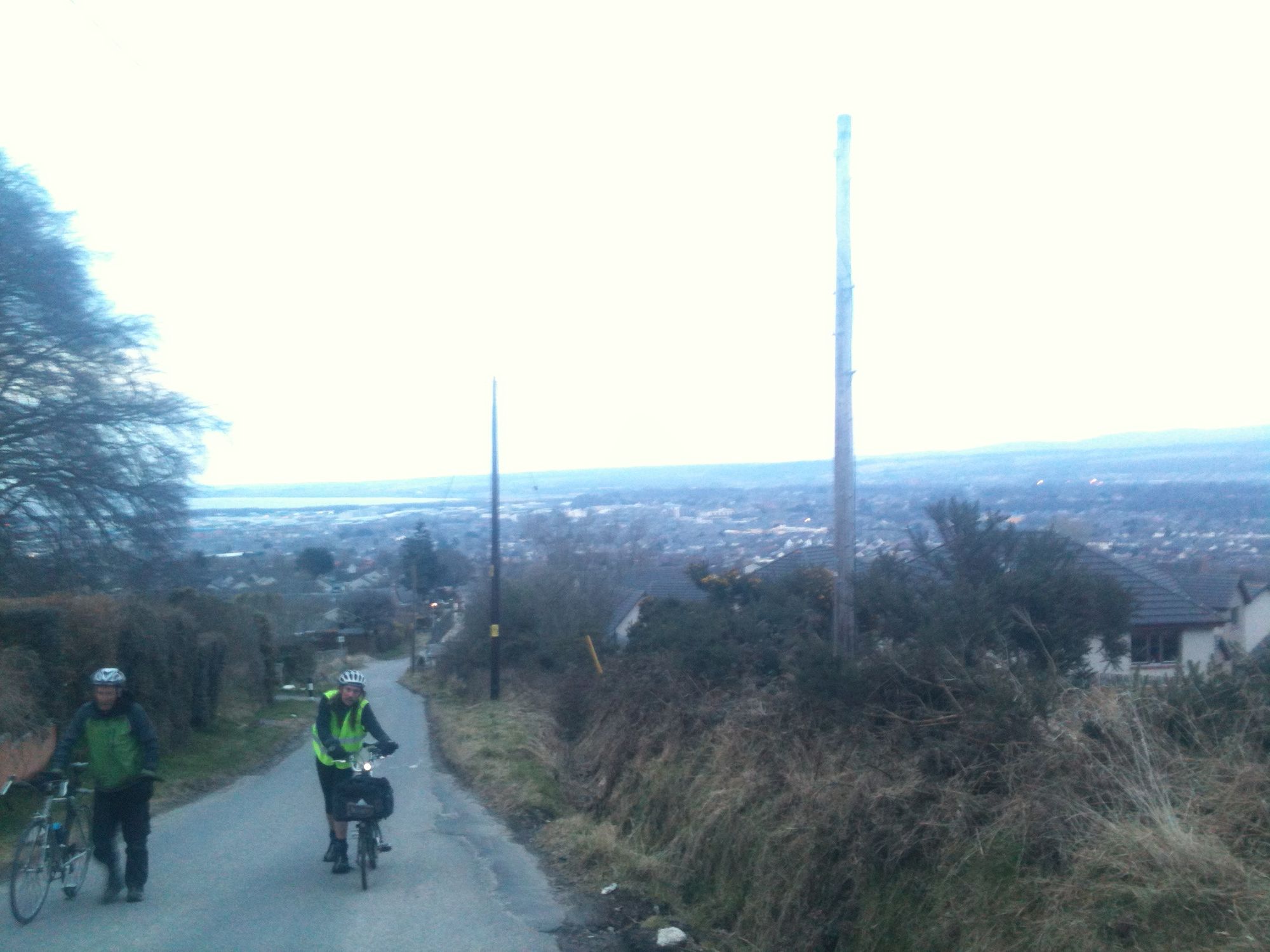 Overall, this was one of the most tiring days for me (alongside the hilly 65 miler we did at the beginning). But the views and beauty of the place made it all feel OK. The last hill, above Inverness and up into Anam Cara, was way too steep for my tired legs so I got off and walked.
Arriving at the site was a delight. A stunning location and a delicious soup our hosts had cooked up for our arrival. A really nice attention to detail seemingly runs through everything they do at Anam Cara.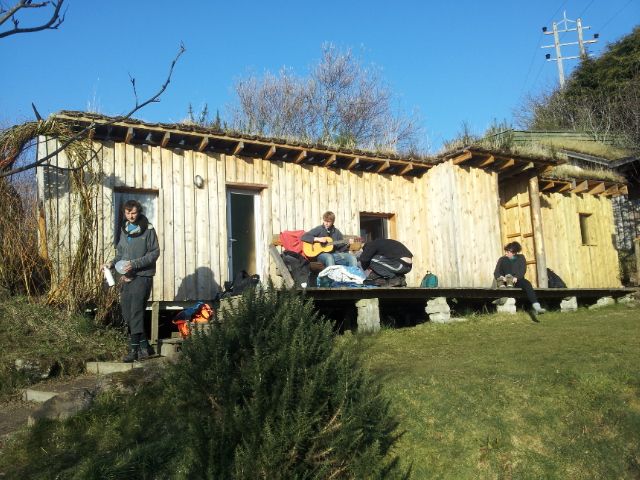 An old crofting site, they mostly have static caravans because they can have up to five without needing any planning permission. But they aren't just any old caravans. At least they don't look like it. They've all been lovingly clad on the outside with wood and decorated inside to very high standard. But all on a small budget.
I'm really glad we visited this place, because their focus on shamanism and yoga type stuff isn't what I'm most interested in and so probably wouldn't have been drawn to visit the place of my own volition. But I loved it. I love the fact they also have a tree nursery that produces some 40,000 trees a year too!
Day 17 – April 13th, Anam Cara -> Chris Johnstones ~35 miles
A nice short day of riding and a great day of gathering free food. From the bins outside the Co-op supermarket in Nairn we rescued about 20kg broccoli, 20 kg of mushrooms and loads of pears. A bit later, just after Brodie Castle and about a mile from our destination, we discovered a birch woodland completely carpeted with wild garlic.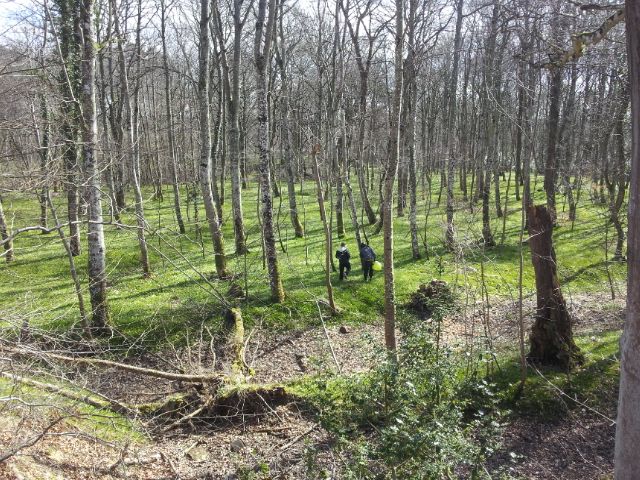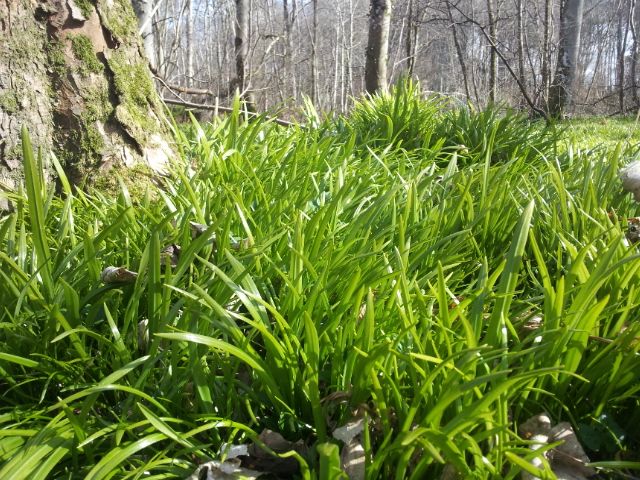 Needless to say, we cooked up a veritable feast upon arrival at Dr Chris Johnstone's house, whose paddock we camped in for the night. Chris has just written a book with Joanna Macy called Active Hope: How to Face the Mess We're in without Going Crazy and he ran lightning speed (but still very good) version of The Whole Spiral workshop that is part of The Work that Reconnects.
Chris is a lovely man doing great work and really made us feel at home. He has a nice little forest garden and small holding too. They have plans to collect and store more rainwater so gave him some useful pdfs about rainwater that will hopefully come in handy. We spoke briefly about working together on online courses too, which was exciting. 🙂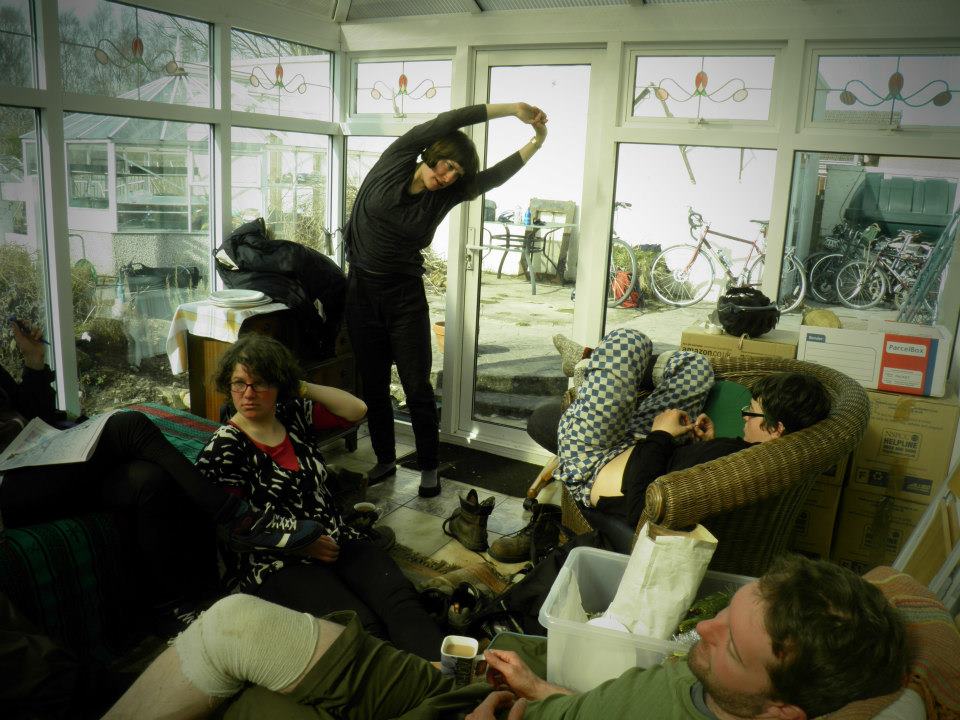 Day 18 – April 14th, Chris Johnstone's -> Findhorn Ecovillage ~5 miles
This was such a short day cycling that it was basically a day off. We arrived in time for lunch at Findhorn, one of the oldest and most established alternative communities in Europe. We had the whole day to relax there. Some people went to the (very windy) beach, others had a tour. I'd been there before and so mostly just relaxed before helping to secure people's tents and put up the bus marque in hard winds (the wind just kept getting stronger and stronger – at one point I thought it might blow the bus over!).
Day 19 – April 15th, Findorn -> Dornoch caravan park ~75 miles
The wind didn't stop over night. By the morning there were quite bad sand storms. But the cycling had to go on.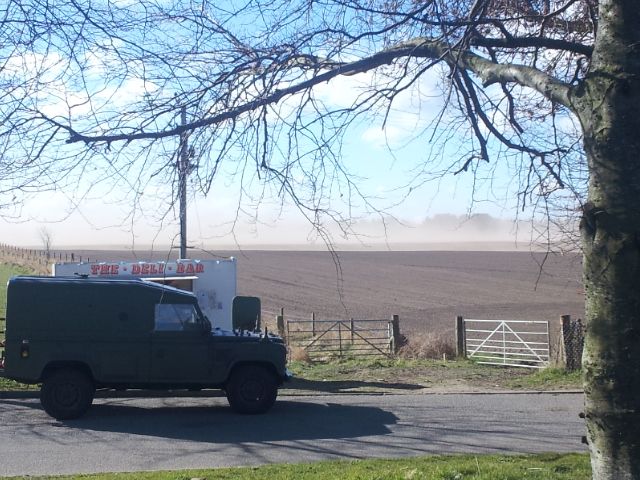 We cycled on through the wind and sand. It was pretty slow going and felt all the more so because we were cycling back on ourselves towards Inverness before heading up to Dornoch Caravan and Camp Park arriving at our last campsite before the End.
Once out of the wind it was a pretty nice cycle. There were great views from the costal bridge north out of Inverness and the scenery as we cycled around Dornoch Firth was stunning. It felt good to start seeing signs to John O'Groats too. 🙂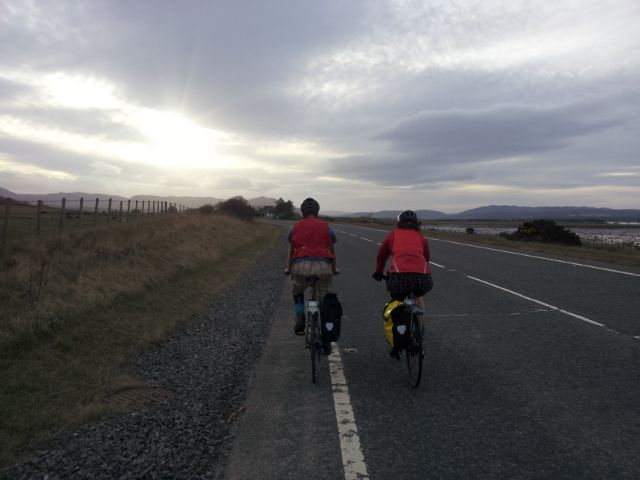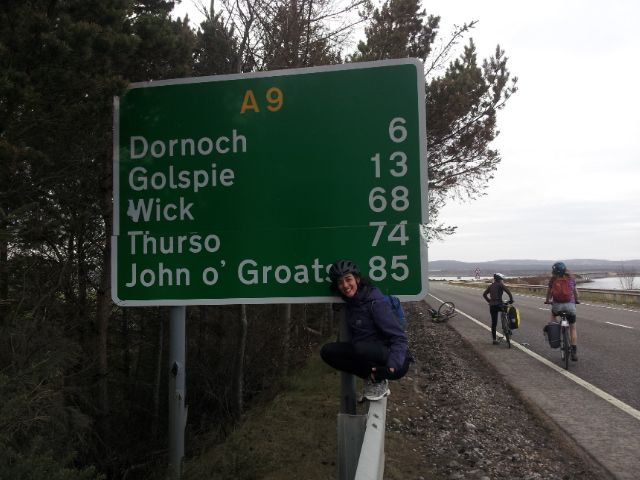 Day 20 – 16th April, Dornoch -> John O'Groats ~80 miles
We left our tents set up and headed off for John O'Groats first thing in the morning. It was a long ride and there was a couple of killer hills along the way, but I was in good form. On one particularly long hill I over took the rest of my team despite my small wheels and lack of gears.
All the teams converged at Wick so that we could do the last 16 miles or so together. The road into Wick was great, at least for my team: for possibly the first time on the whole trip we had a strong wind behind us so we made really good time. Other teams weren't so lucky: by the time they got to the same road the strong wind had changed direction and was blowing them sideways into the road. Pretty hairy stuff.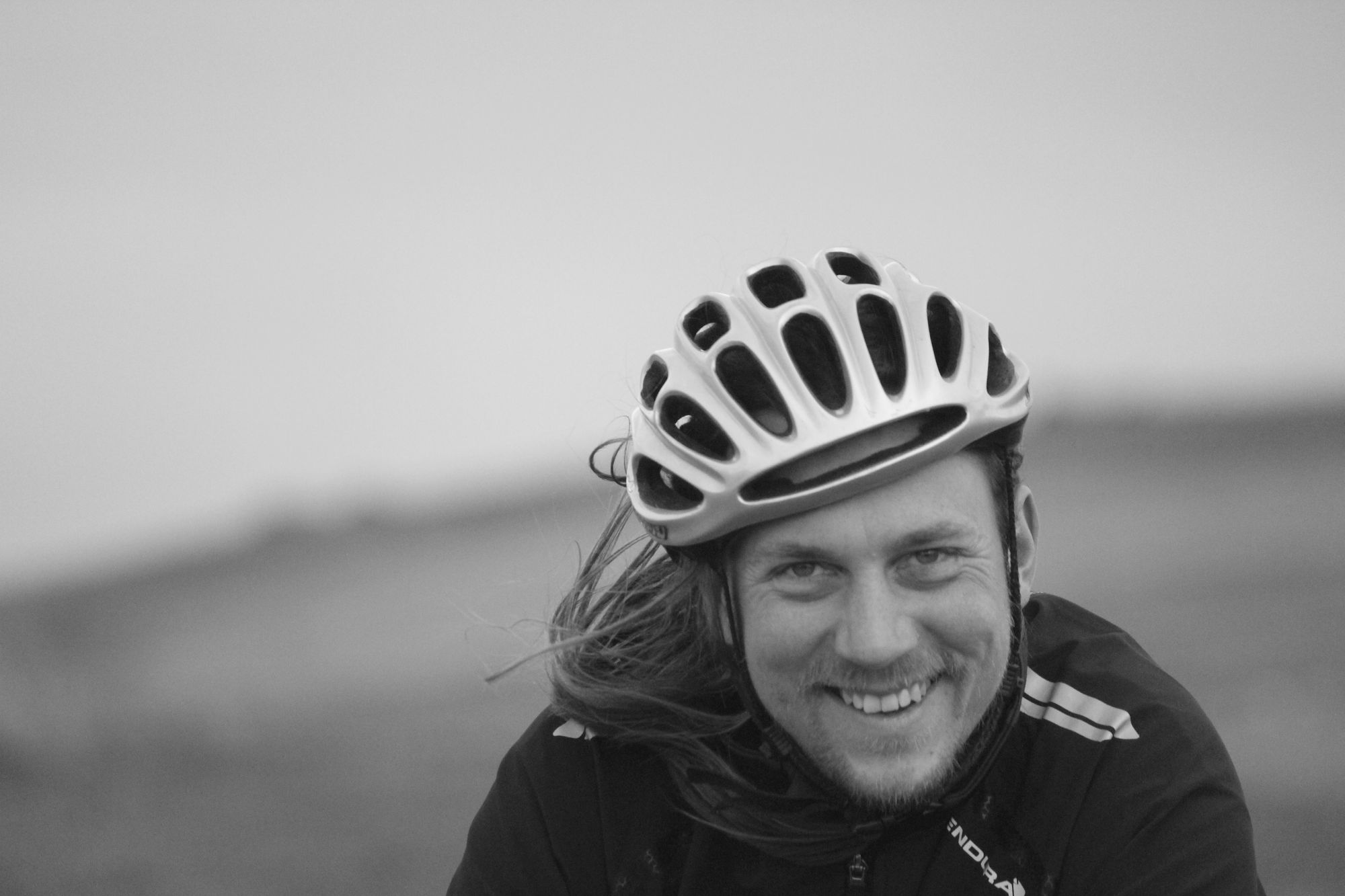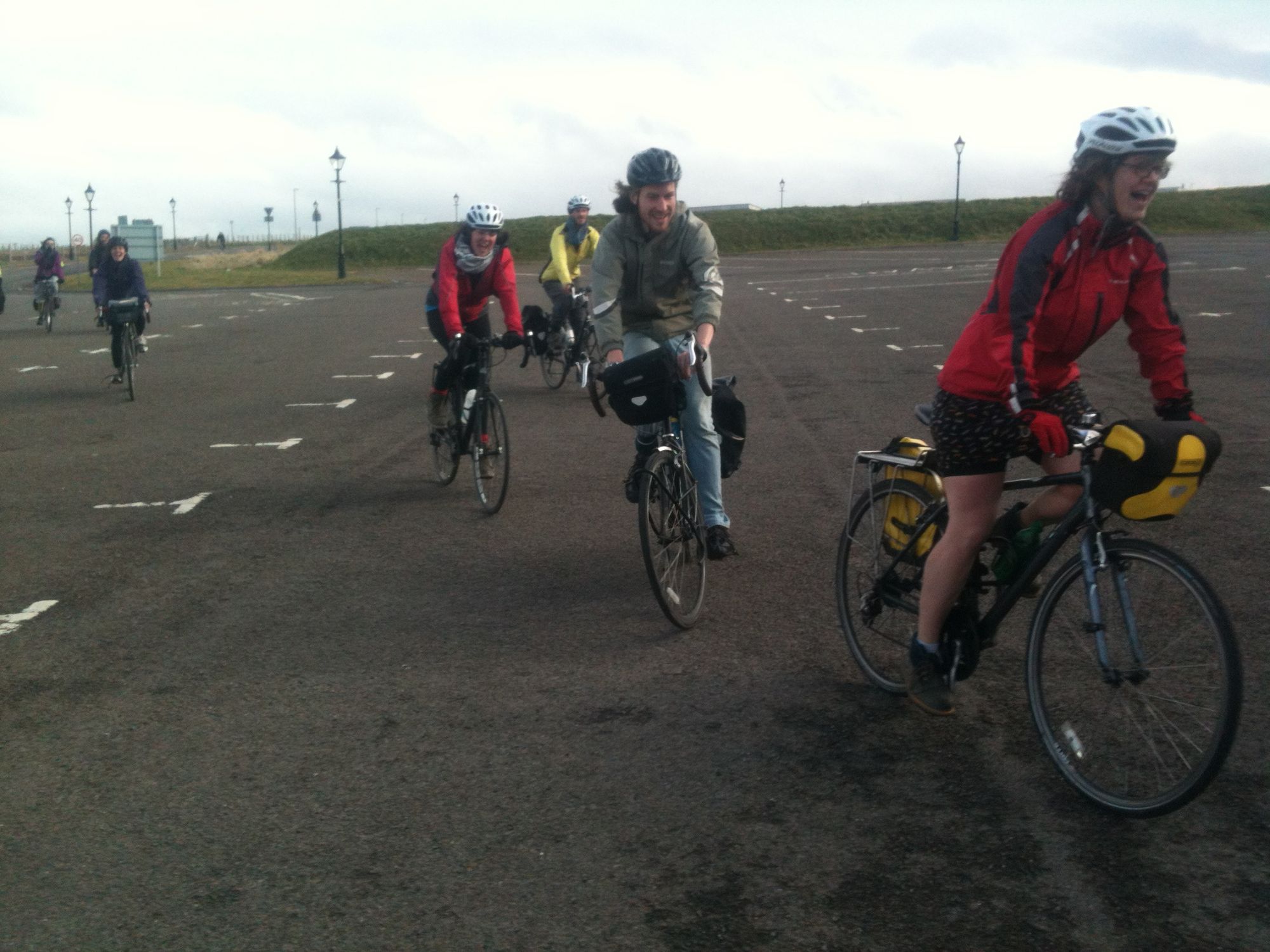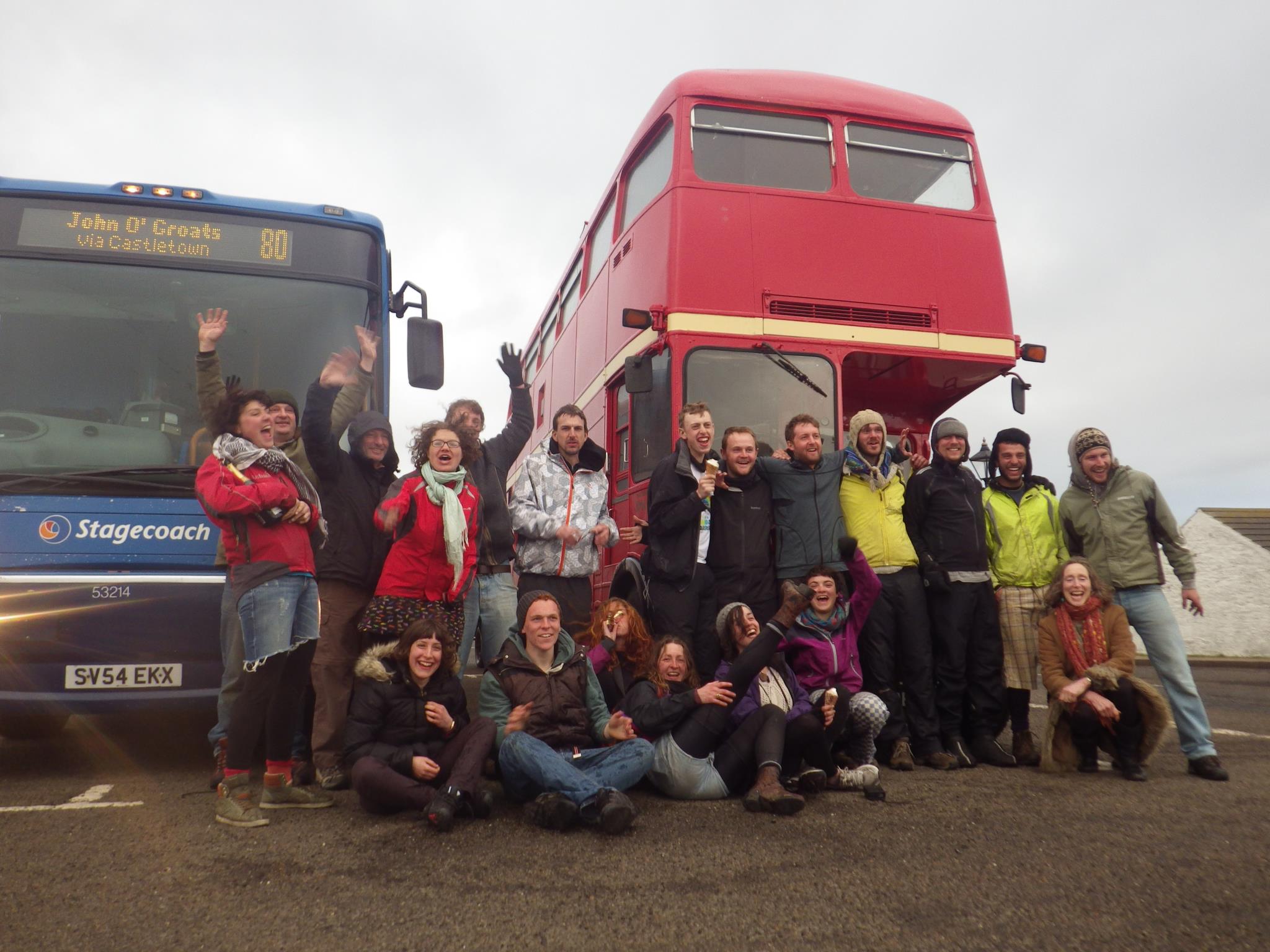 We made it to John O'Groats!
The last 16 miles was hard work as we had very strong head winds.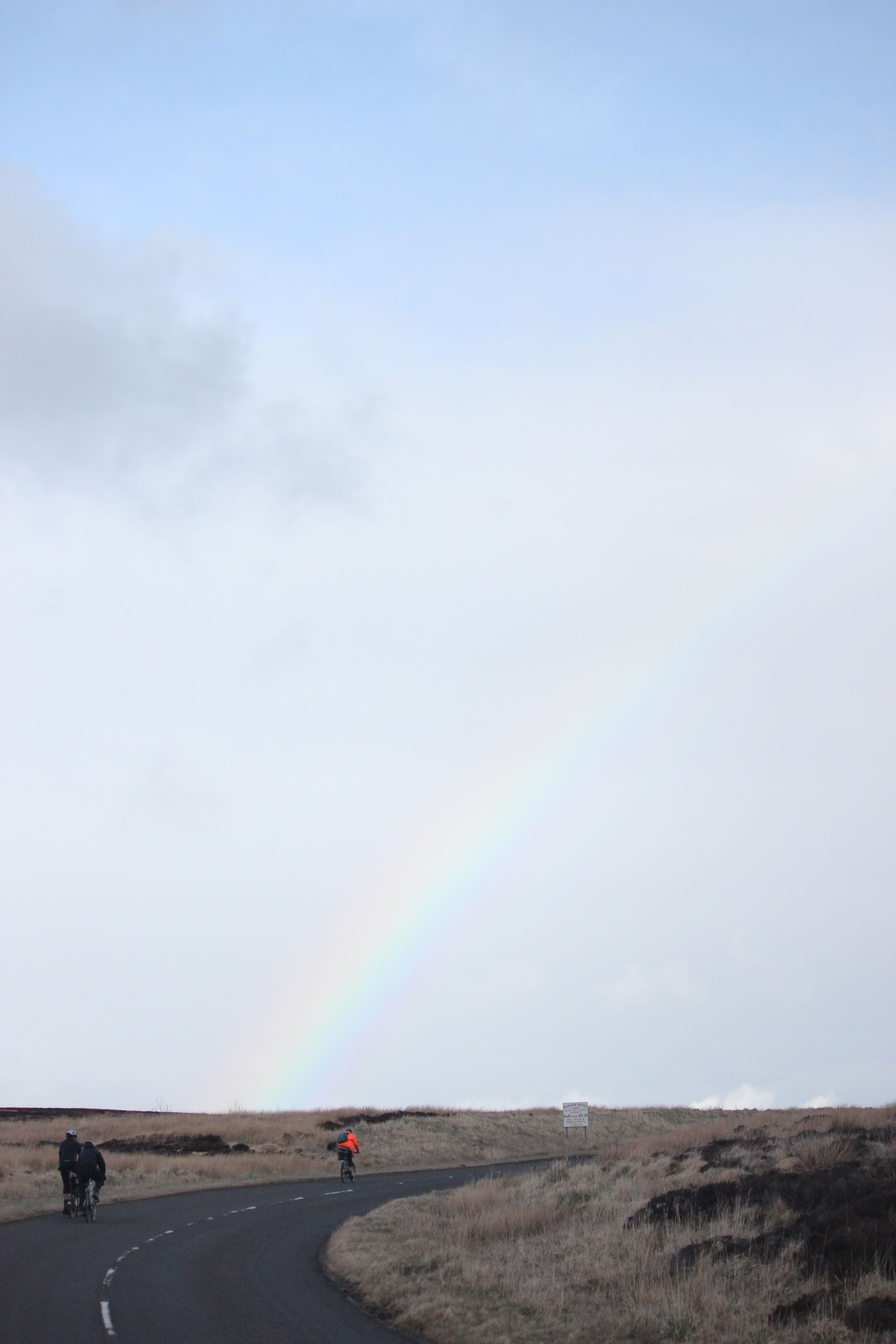 But a rainbow welcomed us to John O'Groats and the rain and hail stones held off until just after we'd all boarded the bus to head back to Dornoch for the night. Despite the wind and the cold we were incredibly lucky with regards to rain. It rained a little bit here and there, but I didn't get soaked once. Pretty amazing considering we were outside for over 8 hours a day for 3 weeks straight.
On our way back to Dornoch we stopped again in Wick for a big celebratory meal at a nice little Italian place we'd found earlier. We filled the whole place up and had lots of fun eating, drinking and sharing tales.
Upon arrival at Dornoch we discovered that the wind had been VERY strong here. Quite a few tents were badly damaged and at least one had blown away completely! We didn't let that dampen our spirits though. I went for a walk to the beach with Richard and we lay down in the dunes gazing at the stars for a while and chated about life and everything.
Day 21 – 17th April, Dornoch -> Cowgate Hostel, Edinburgh on the bus
We set off in the morning, and the bus dropped us off at Cowgate Hostel in Edinburgh before heading off back to the green fields of Dorset. Proudly and boisterously we hit the town for a celebratory meal out and party! Although, to be honest, most of the partying had happened the night before on the day we'd actually reached our destination. Still it was nice to just hang out with the rest of the gang whilst not on bikes. We visited a few nearby drinking holes, sampled some local brews and then headed back to our hostel where we had a whole flat/ floor with a big shared kitchen…
Day 22 – 18th April, Edinburgh -> London by train.
Alice lives in Edinburgh, and in the morning we were joined by some of her friends who helped to cook up a big breakfast, our last meal together as a group. People had been booked onto trains a various times of day. Thankfully mine was around 12/1pm and so didn't have to rush too much in the morning. I shared a train back to London with Julia, Oli and Georgie and we chatted away, ate snacks and discussed Building Man (which has turned out to be a great success! 🙂 )
So that is it. Josef's Journey to John O'Groats (and back) is complete. If you read the whole thing, thanks! (it took me ages to write an such epic journey up and I still feel like I've only just touched the surface!). If you fancy doing something similar yourself, look out details for Brake the Cycle's next bike tour and come along!
And, one last time, please don't forget to contribute to our fundraising page!